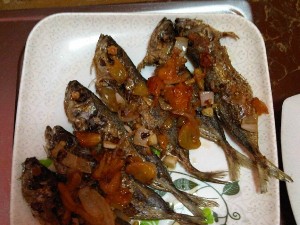 Fish sarciado or sarciadong isda in tagalog is an easy to cook dish. I love fish than chicken, I don't mind eating fish daily because there are a lot of things you can do with fish. In fact, if you have left over fried fish, you can create a new dish out of it. Sarciadong isda is a good example of an easy to cook fish dish.
Sarciadong isda is a great dish for it bring flavor to an already tasty fried fish. It can transform an ordinary fried fish into a dish that you will love to eat daily. Fish sarciado is usually composed of tomatoes, onions, eggs and some seasoning. But my sarciadong isda recipe is different, I didn't include the eggs. I sometimes cooked sarciado with eggs but most of the time I don't for I prefer only tomatoes and onions.
This dish in my opinion is healthy, especially when you just used olive oil to sauté the tomatoes and onion. Sarciadong isda also works well with other fish such as galungong, tilapia and maya maya. Most of the time, I use maya maya when cooking sarciado but this time I only have matangbaka in the fridge. Anyway, you can use whatever fish suits you best, it is really up to you.
Here's my sarciadong isda recipe, enjoy cooking!
Sarciadong Isda Recipe
Ingredients:
2 kl Matangbaka, cleaned
2 pcs tomatoes, diced
2 pcs, onions, diced
1 head garlic, diced
Ginger, diced
½ ground pepper
Salt
Olive oil
Direction:
In a medium sized frying pan, heat oil over medium heat then fry the fish but rubbed some salt over the fish first. Once all the fish fried, transfer to a serving dish and set aside.
Next, prepare the toppings by cleaning the frying pan. Heat about 3 tablespoon of olive oil then sauté the onions, garlic, ginger and tomatoes. Seasoned with salt and pepper to taste then remove from heat.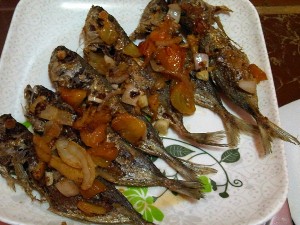 Pour the prepared tomatoes and onions over the fish. Serve hot with rice and enjoy!
See how easy it is to enhance your left over fish. This dish only takes 5 minutes to prepare if you already have left over fish. If you are looking for healthy dish or just want to try a new recipe then give my sarciadong isda a try. I promised, you will never regret cooking fish sarciado. Thanks for visiting, don't forget to bookmarked and share this recipe to your friends and family. Have a nice day!