Adobong isaw is an exotic dish. This dish is easy to cook and delicious despite of the fact that its primary ingredient is large intestine.
I have learned to love isaw from my father in law. He would often buy large intestine and cooked them adobo style. Adobo is a popular Filipino dish as you can cook any meat into adobo. Isaw is great as appetizer and main dish.
Adobong isaw is only for those who eat innards or exotic foods. If you don't eat exotic foods because you find them gross then use pusit (squid) or any meat instead.
By the way, large intestine is more popular as chicharon bulaklak, a favorite snack or pulutan. But if you are tired of deep fried large intestine for pulutan, this adobong isaw recipe is worth trying.
Try this recipe and let me know what you think as I love hearing from my readers.
Adobong Isaw
Ingredients:
1 kilo large intestine
½ cup soy sauce
¼ cup vinegar
Dried bay leaves
3 ½ cups water
4 cloves garlic, crushed
Cooking oil
1 tsp whole peppercorn
Salt
Onion
Direction: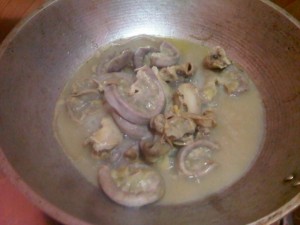 First of, clean the large intestine inside out once cleaned. In a cooking pot, pour 3 cups water into the pot and add the intestine.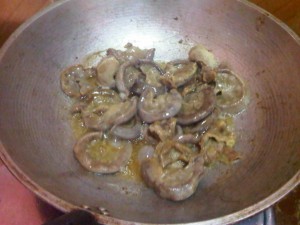 Let boil then reduced heat and simmer until tender or the liquid evaporates.

Remove from the pot and cut into desired serving size. Set aside.
In a wok, heat oil over medium high heat and sauté garlic and onion.
Put in the large intestine and cook for 2 minutes.
Add the soy sauce, vinegar, ½ cup water, bay leaves and peppercorn then boil. Stir and season with salt. Cover and simmer for about 10 minutes or until the sauce thickens or evaporates.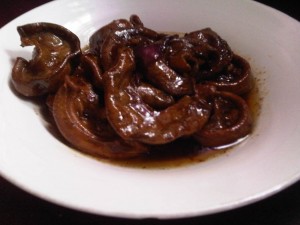 Transfer to a serving dish and serve with rice.
Thank you for checking out my adobong isaw or large intestine recipe. Please bookmark this page to save the recipe on your computer.
Have a nice day and happy cooking!