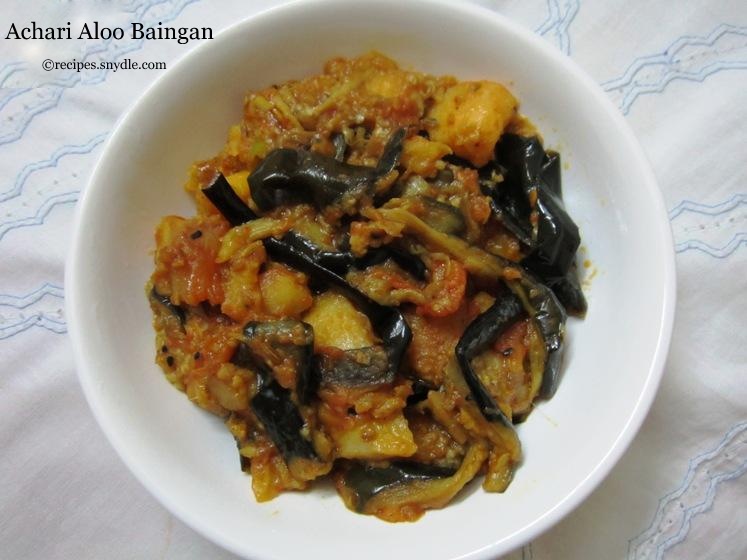 Eggplant and potato make a really nice combination when you have to make dry curry or sabzi as a side dish for rotis. This recipe is not like the run of the mill aloo baingan masala. It is very flavorful, tangy and zesty eggplant recipe. If you like just eggplants, you can skip the potatoes. Since they love eggplant with potato, I tossed in a couple of them diced.
You can make this for dinner whenever you looking for quick dinner ideas. Also, it makes a great recipe for tiffin and lunch. The tangy taste will also tempt the kids who are usually the fussy eaters. This eggplant curry goes well with rotis, naan and dal rice.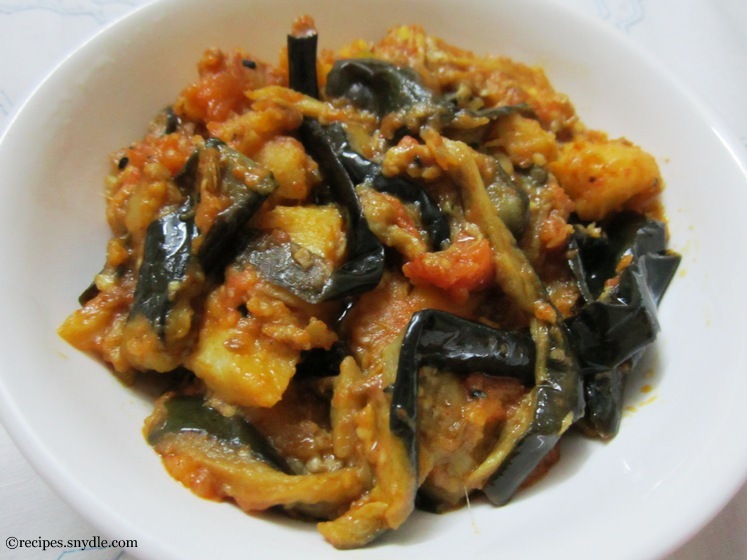 The reason this recipe is called 'achari' is because it uses a couple of ingredients that are used in the pickle and have a very strong flavor. Nigella seeds and fennel seeds are the two ingredients make a major difference and make this recipe stand out from the rest. I have used the long, purple eggplants, also known as heirloom eggplants. They are perfect for this dish. Also, I used Maggi Masala-e-Magic spice mix. It lends a really nice taste to the dish.
Let's start with the recipe of Achari Aloo Baingan now. This recipe yields 4-5 servings. For the purpose of measurement,  1 cup = 250 ml.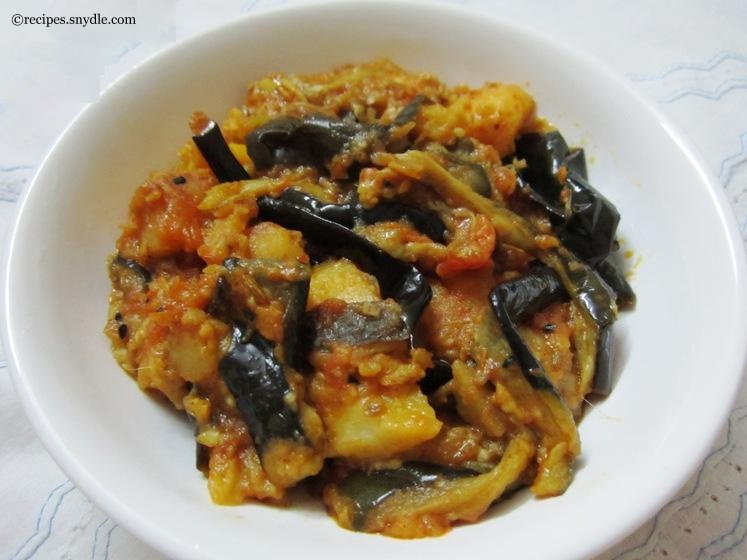 Ingredients
Heirloom eggplants – 5
Potato – 2 medium
Tomatoes – 3 large, blanched, peeled and chopped
Ginger – 1-inch piece, finely crushed
Garlic – 10 cloves, finely crushed
Nigella seeds – 1 and 1/2 tsp
Fennel seeds – 1 and 1/2 tsp
Red chili powder – 1 and 1/2 tsp
Turmeric powder – 1/2 tsp
Maggi Masala-e-Magic – 1 tsp
Salt – to taste
Green chilies – 3, chopped
Cilantro – a handful, chopped
Oil – to deep fry + 2 tbsp
How to Make Achari Aloo Baingan
Slice the eggplant to 1/2-inch thick slices. Deep-fry them in hot oil for about 3 minutes till they are almost cooked. Remove the eggplants onto a plate.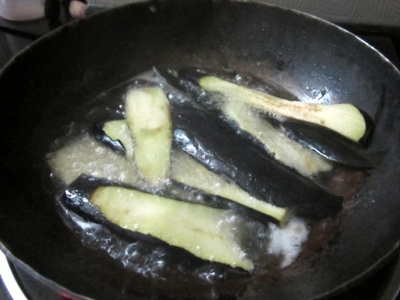 Dice the potatoes. Deep fry the potato till they are golden and almost cooked. Remove the fried potatoes onto a plate.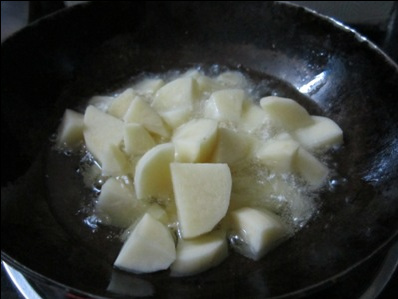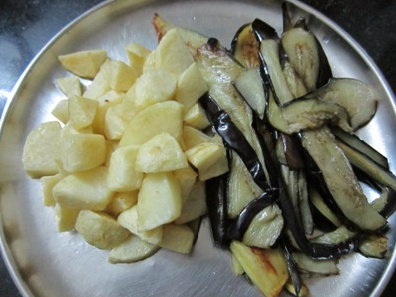 Heat 2 tbsp oil in a skillet. Add in ginger and garlic and saute it for a few seconds till the raw smell goes away. Try not to burn anything.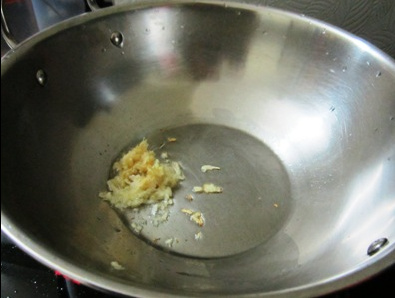 Add in the fennel seeds and nigella seeds and saute for a few minutes till they get aromatic.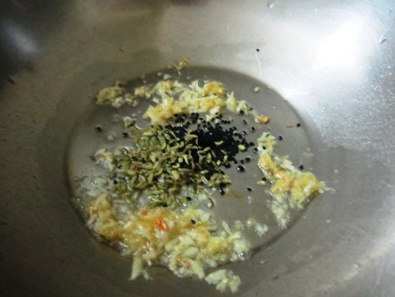 Add in the blanched, chopped tomatoes and some salt. Cook till the tomatoes get mushy. Sprinkle some water if the mixture looks too dry.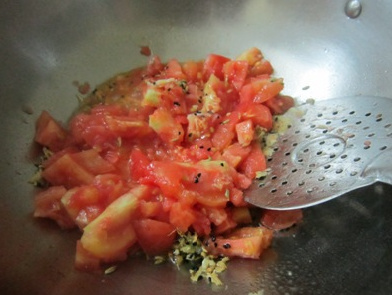 When the oil begins to separate, add the turmeric powder, red chili powder and Maggi Masala-e-Magic and mix well.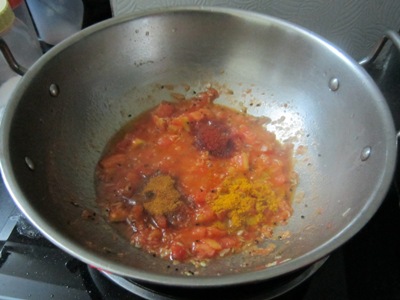 Add the fried eggplant slices and diced potatoes. Mix well and cover the skillet. Allow the veggies to cook and absorb the flavors of the spices.
After about 6-7 minutes, the oil will separate and the veggies will be done. Add in the chopped cilantro and green chilies. Mix well and cook for another minute.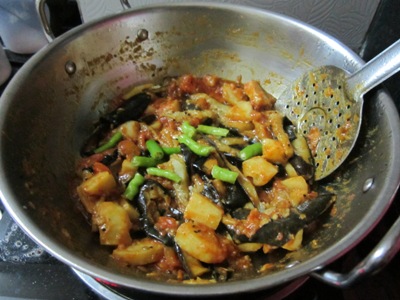 Achari Aloo Baingan is ready. Serve hot with rotis or dal rice. Enjoy!