Sweet corn balls is a dish which can be served as a starter or as a snack and is loved by kids and people of all ages.  It is best combination of sweet corn, potatoes and other spices.  You can also add cheese to this and make cheesy sweet corn balls.

It is crispy outside and soft on the inner side.  This can be served with some tomato ketchup.  It would definitely impress people of all ages.
I always make these balls as these are the best way to add veggies into kids diet.  I have added sweet corn and potatoes here, but you can also add finely chopped and steam cooked veggies with potatoes and make vegetable cheese balls.  This recipe is also a best dish which can be served for parties.  You can also make them ahead and freeze.  But take care to thaw them for 10 minutes before deep frying.
To make these sweet corn balls recipe, I have used american sweet corn.  This corn gives a slight sweet taste to the balls.  But you can also try with indian corn, but it will not be sweetish.
sweet corn balls
Ingredients 
sweet corn kernels – 1 and 1/2 cups
potato – 1
onion – 1 (small)
green chilies – 3 (chopped)
ginger – 2-inch piece
garam masala – 1 teaspoon
cumin powder – 1/2 teaspoon
salt – to taste
coriander leaves – 2 tablespoon (finely chopped)
corn flour – 2 tablespoons
bread crumbs – as required
oil – for deep frying
How to make sweet corn balls
1. Remove the corn kernels and steam cook it for 5 minutes.  Keep aside.
2.  Boil potatoes in a pressure cooker for 3 – 4 whistles.  You can also cook potatoes in an open pan with enough water till well cooked.  Peel the skin, mash well and keep it aside.
3.  Add the steamed corn kernels into a blender, and give it a quick pulse.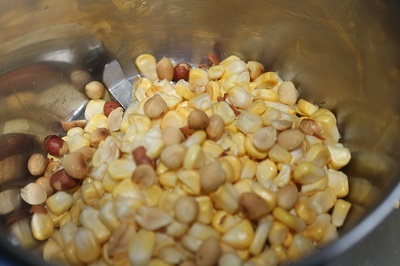 4.  Add the crushed corn kernels along with the mashed potatoes into a bowl.  To this add grated ginger, chopped green chili, garam masala, cumin powder, corn flour salt, and mix well.  If you feel that the mixture is not tight, then add more corn flour and mix well.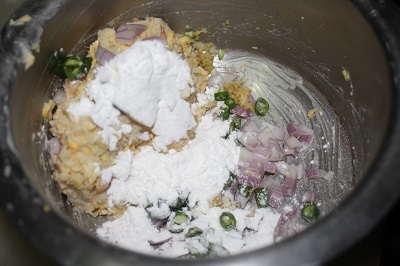 5.  Divide the mixture into lemon sized balls.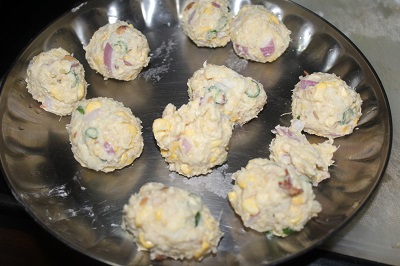 6.  Keep bread crumbs ready in a plate.  Roll the balls in the breadcrumbs and keep aside.
7.  Heat oil in a pan.  Check whether the oil is hot enough by dropping a piece of dough into the hot oil.  If the oil starts bubbling, and the dough piece rises to the top, then it is the right consistency.  When oil is hot enough, gently drop the balls one by one into the hot oil.  Fry on medium flame on both the sides till it turns crisp.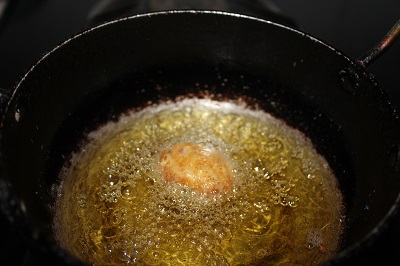 8.  sweet corn balls are ready.  Serve it with tomato ketchup.