Hi Friends:
It is Shemeena again. This time I am coming with chicken 65.
Chicken 65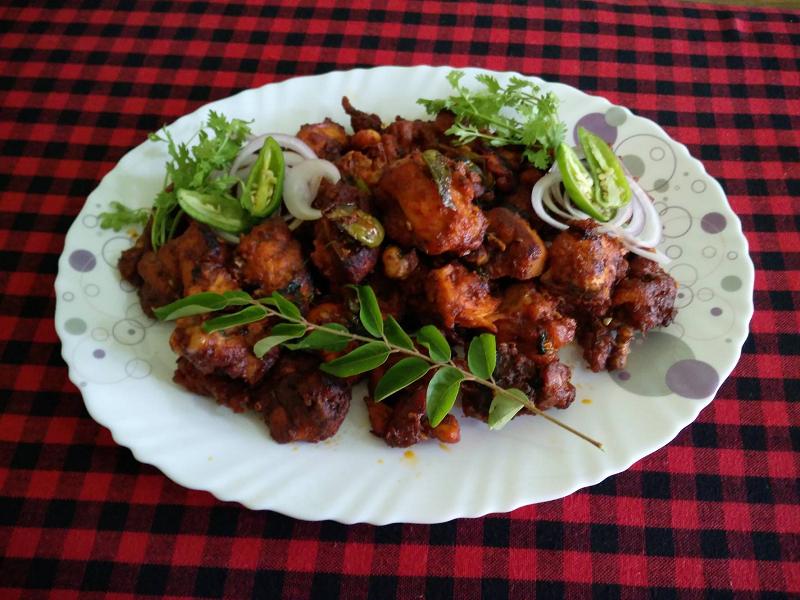 As all of you know, it is one of the popular indian chicken dish and it is available all over india. You will not find any Indian restaurants in western countries, that does not serve chicken 65.  You may wonder how this dish has got this funny name. There is one or two versions of its origin.
Chicken 65 was a dish introduced in 1965 at the Buhari Hotel restaurant in Chennai by its founder A.M.Buhari. Another version says it was the 65th item in the menu card of a Bangalore military canteen. Whatever it is chicken 65 has travelled a lot from its origin, and has become one of the sought after dish in Indian dining table.
Even though it is a restaurant dish, now lot of housewifes are cooking it, in their home. Here I am showing you how to cook chicken 65 with step by step pictures. Please try it and enjoy.
Note:ചിക്കൻ 65 മലയാളത്തിൽ താഴെ ഉണ്ട്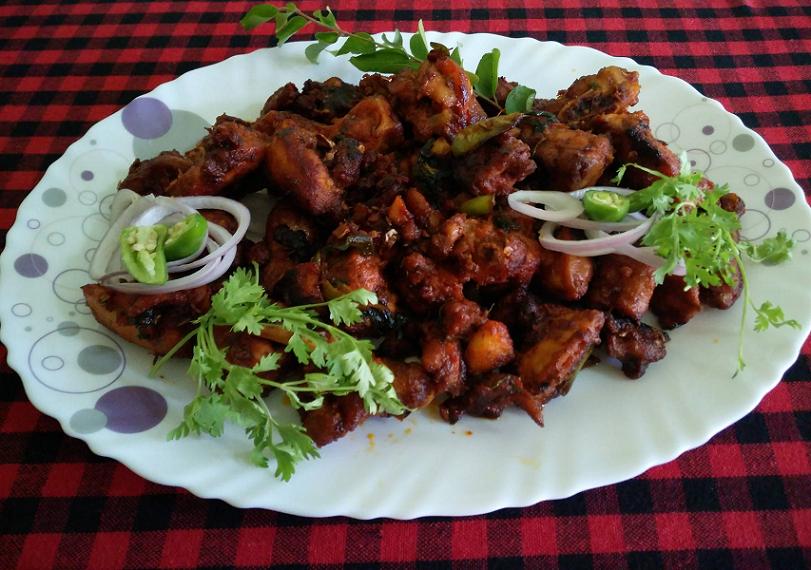 Ingradients
Chicken : 500 grams
Kashmiri Chili powder : 1 table spoon (for chicken fry)
Pepper powder : 1 teaspoon
Corn flour :1Tablespoon
Ginger garlic paste : 1 teaspoon
Egg:1
Oil :as per requirement
Ginger : small piece (chopped to very fine pieces)
Garlic : 5 (chopped to very fine pieces)
Cumin:1 teaspoon
Curry Leaves : 15
coriander : little bit
Green chilli : 5 pieces
Kashmiri chili powder :1/2 table spoon (for seasoning)
garam masala :1 Teaspoon
Chili sauce : 1/2 cup
How to Make Chicken 65
Cut the chicken to small pieces and wash it properly. Remove the water and put it in saucer or a small vessel as per below photo
Add 1/2 teaspoon salt, 1 tablespoon of kashmiri chili powder, pepper powder, corn flower, ginger garlic paste and one egg to it.
Mix it well and make sure the salt is as  per your taste. Keep it aside for 15 minutes
 Add around 2 table spoon of oil and heat it. add the chicken one by one. If you find the oil is not enough, add more oil to it.
Make sure the chicken is cooked evenly every where, by reversing both side. Once it is cooked properly remove it from fry pan and keep it aside
Nowclean the pan and add one table spoon of oil. once the oil is heated properly, add chopped ginger, chopped garlic to it.
Add cumin and curry leaves to it.
Add chopped coriander leaves and chopped green chilies to it

Add half table spoon of Kasmiri chili powder and one teaspoon of garam masala
Add Half cup of red chilly sauce and stir well until the gravy is cooked nicely.
Now add the fried chickn to the gravy and mix it well. Close the pan and leave it in very low flame for 10 minutes. Make sure the flame is low so that the the content wont burn.
Spicy Chicken 65 is ready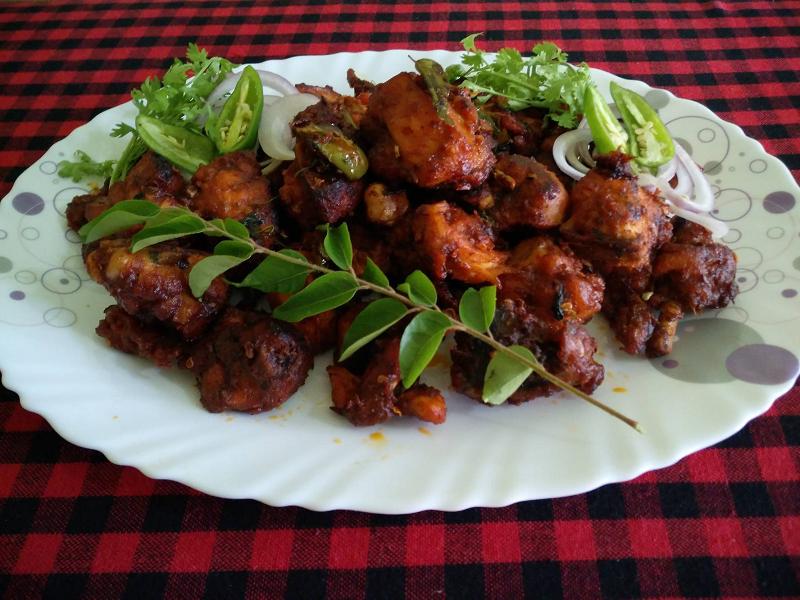 Chicken 65 in malayalam (ചിക്കൻ 65 മലയാളത്തിൽ )
ചിക്കൻ 500gm കട്ട് ചെയ്തു കഴുകി വൃത്തിയാക്കി വെള്ളം കളഞ്ഞു എടുക്കുക
ഒരു ടേബിൾ സ്പൂൺ കാശ്മീരി മുളക് പൊടി, ഒരു ടീസ്പൂൺ കുരുമുളകു പൊടി, ഒരു ടേബിൾസ്പൂൺ കോര്ൻ പോടീ (corn ഫ്ലോർ), ഒരു ടീസ്പൂൺ ഇഞ്ചി വെളുത്തുള്ളി, ഒരു കോഴി മുട്ട എന്നിവ ചേർക്കുക
എല്ലാം കൂടെ നന്നായി യോജിപ്പിച്ച്, 15മിനിറ്റ് വെക്കുക
ഫ്രയിംഗ് പാനിൽ 2 ടേബിൾ സ്പൂൺ ഓയിൽ ഒഴിച്ച്, ചൂടായാൽ, ചിക്കൻ ഓരോന്നായി ചേർക്കുക
രണ്ടു സൈഡും നന്നായി വേവാൻ വേണ്ടി ഇടയ്ക് മറിച്ചിടുക. അതിനു ശേഷം അത് എണ്ണയിൽ നിന്നും കോരി വെക്കുക
വീണ്ടും ഫ്രയിംഗ് പാൻ അടുപ്പിൽ വെച്ച് ഒരു ടേബിൾ സ്പൂൺ എണ്ണ ഒഴിച്ച് ചൂടാക്കുക
ഒരു ചെറിയ കഷ്ണം ഇഞ്ചിയും 5വെളുത്തുള്ളിയും ചെറുതായി അരിഞ്ഞത്‌ ചേർക്കുക
1ടിസ്പൂൺ ചെരിയജീരകം ചേർക്കുക
ഒരു തണ്ട് കറിവേപ്പില അൽപ്പംമല്ലിയില ചേർക്കുക
5പച്ച മുളക് കട്ട് ചെയ്ത് ചേർക്കുക
അര ടേബിൾ സ്പൂൺ കാശ്മീരി മുളക് പൊടി ചേർക്കുക
ഒരു ടിസ്പൂൺ ഗരം മസാല ചേർക്കുക
അര കപ്പ് റെഡ് ചില്ലി സോസ് ചേർക്കുക
നന്നായി ഇളക്കുക
വറുത്തു വെച്ചിരിക്കുന്ന ചിക്കൻ ചേർക്കുക
നന്നായി ഇളക്കി യോജിപ്പിച്ചതിന് ശേഷം തീ കുറച്ചു 10 മിനിറ്റ് മൂടി വെക്കുക
ചിക്കൻ 65 റെഡി