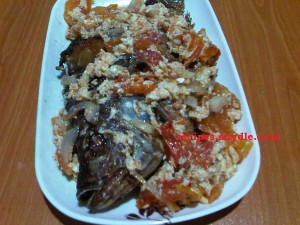 Fish sarciado or sarciadong tilapia is a fish dish that is very popular in the Philippines. The tilapia simmered in a sauce composed of tomatoes, onions, and eggs and seasoned with salt and pepper to enhance the dish flavor. In my opinion, sarciadong tilapia with egg is a healthy and inexpensive recipe making it worth cooking. If you have left over fried fish from last night dinner you can transform the leftover into a tasty and hearty meal.
For this sarciadong isda, I used tilapia because it is cheaper and I feel saltwater fish is better for this recipe. Although, most of the time, I used maya maya. So, feel free to experiment and used whatever you love to eat.
Sarciadong Isda
Ingredients:
1 kilo Tilapia, cleaned and cut in half
3 pieces tomatoes, diced
2 onions, diced
3 cloves garlic, minced
1 tablespoon ginger, minced
2 pieces egg, beaten
1 cup water
Salt and pepper
Direction:
In a frying, heat oil and fry the fish. But before you fry rubbed salt over the fish first.
Remove from the pan and place in a serving dish, set aside.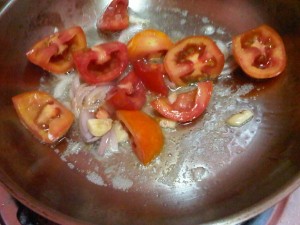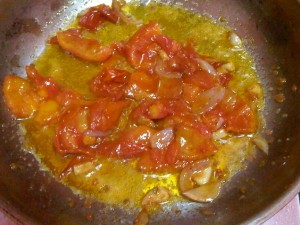 In another pan, heat 2 teaspoons of oil then sauté the garlic, onions, ginger and tomatoes until the tomatoes thoroughly cooked. Add the pepper and water then stir. Bring to a boil then pour the beaten eggs. Once the egg coagulate or curdles, stir. Simmer for 2 more minutes before pouring the mixture on top of the fried tilapia.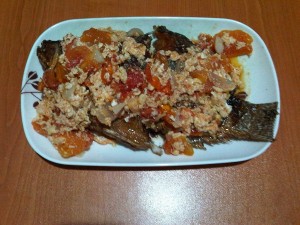 Serve hot with steamed rice.