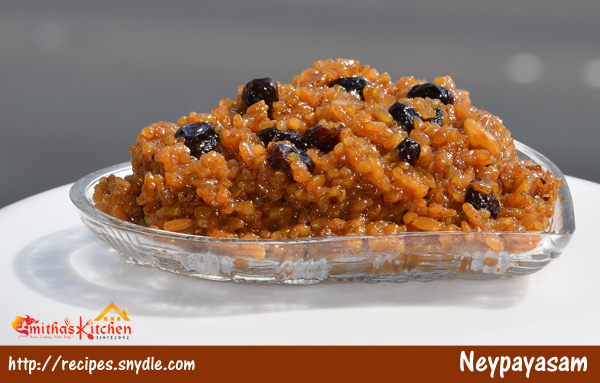 Neypayasam (നെയ്‌പായസം) is  a very simple, thick in consistency and delicious payasam made mainly using ghee, raw brown rice (ഉണക്കലരി) and jaggery. Since we use more quantity of ghee for its preparation than in any other payasams, we literally call it as Neypayasam. Most of the temples in Kerala prepare this tasty payasam as nivedyam and then offer to the devotees as prasadam. We normally prepare this payasam at home during the holy festivals like Navarathri, Makarasamkrathi, Thaippongal etc. or for any special pooja on the day of house warming or similar occasions.
INGREDIENTS :
Raw Brown Rice (ഉണക്കലരി) – 1 cup
Ghee (നെയ്യ്) – 3 tbsp
Jaggery (ശർക്കര) – 250 gm
Rock Sugar, small cubes (കൽക്കണ്ടം) – a few
Black Raisins (ഉണക്ക മുന്തിരി) – 1 handful
Coconut, thinly sliced (തേങ്ങക്കൊത്ത് ) – 1 handful
Water – 2 to 3 cups
METHOD OF PREPARATION :
Wash and pressure cook the rice by adding 2 cups of water until 2 whistles and keep aside.
Melt the jaggery in ½ cup of water, strain it to remove the impurities and keep aside.
Heat 2 tbsp ghee in a heavy bottomed pan and fry the coconut pieces first until light brown and then fry the raisins. Drain them into a small plate and keep aside.
Add the remaining ghee and the cooked rice into the pan and combine well.
Add the melted jaggery and mix well. Continue cooking on low flame for few more minutes. When it starts boiling, stir continuously on folding method until it reaches to a thick consistency.
Add rock sugar pieces, fried raisins and coconut pieces and combine well.
Switch off the flame and serve warm and enjoy the Neypasam at home !!
NOTE : Normally, we do not add cardamom powder and cashew nuts in the Neypayasam we used to prepare at home for pooja or at temples as prasadam.