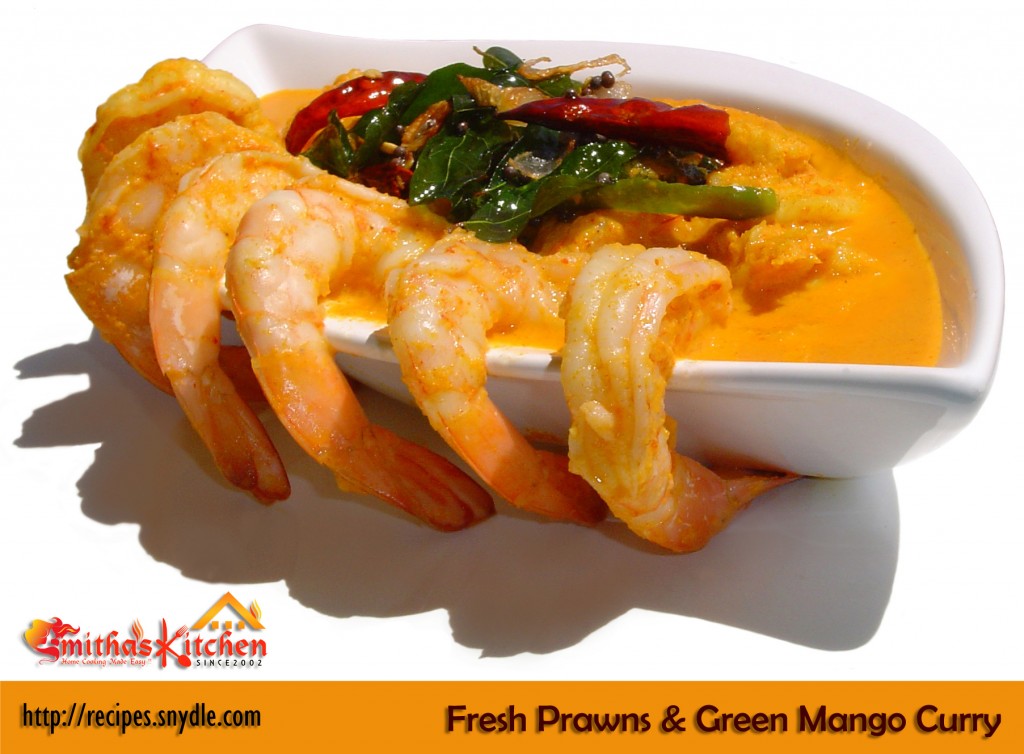 FRESH PRAWNS and GREEN MANGO CURRY  ചെമ്മീനും മാങ്ങയും
This is an authentic mouthwatering Prawn recipe from South India, cooked in a spicy ground fresh coconut paste with raw mangoes.
INGREDIENTS :
Fresh Prawns, cleaned – 500 gm
Raw Mango – 1 no, small size
Grated Coconut – ¼th of a coconut
Coconut Milk – ¼ cup, thick
Turmeric Powder – ¼ tsp
Red Chilli Powder – 1½ tsp
Coriander Powder – ¼ tsp
Green Chilli – 4 nos, silt
Shallots – 4 nos, thinly sliced
Coconut Oil – 1 tbsp
Mustard Seeds – ½ tsp
Dry Red Chilli – 2 nos
Curry Leaves – a few
Salt – as required
METHOD OF COOKING :
Clean and devein the fresh Prawns.
Marinate the cleaned Prawns with little red chilli powder, turmeric powder and enough salt for at least 10 to 15 minutes.
Peel the raw mango and slice the flesh into small lengthy pieces. If the mango is too sour, use only half a mango. In case the raw mango is not sour enough, we can add one piece Kudampuli or little Tamarind extract while boiling the gravy.
Grind the grated coconut with 1 tsp red chilli powder and 2 shallots to a very fine paste.
In a clay-pot or any deep pan, add the sliced mango pieces, slit green chillies, few curry leaves, turmeric powder, coriander powder, finely ground coconut paste and salt to taste. Pour around 1 to 1½ cups of water and boil the gravy on medium flame for about 5 to 6 minutes.
Add marinated prawns and cook covered for about 5 to 6 minutes until the prawns are done.
Add coconut milk, few more curry leaves and mix well.
Check for salt and switch off the flame.
Heat oil in a small pan and splutter mustard seeds. Add sliced shallots, curry leaves, dry red chillies and sauté well for few seconds. Pour this seasoning over the prepared Prawns Mango curry and mix gently.
Keep the Prawns Mango curry covered for at least 10 to 15 minutes for the flavors to set.
Serve hot with boiled or steamed rice.
NOTE : Do not overcook the Prawns, it will become rubbery.
Recipe No. 416