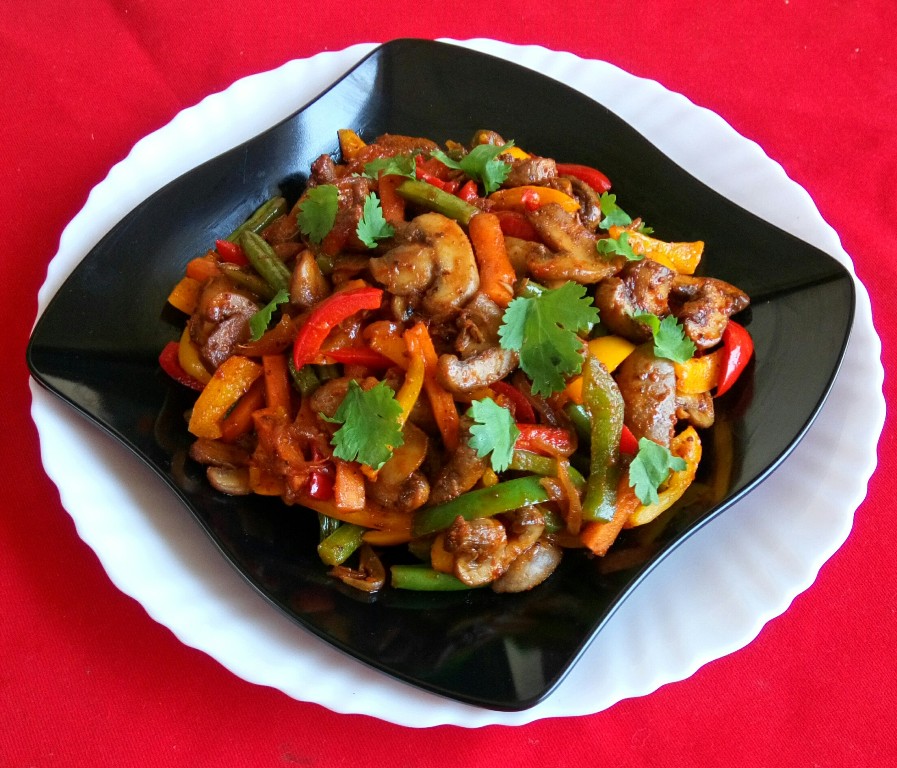 Hai, friends. Mushroom and Vegetables Stir Fry Indochinese Style which is an fusion vegetarian dish prepared with mushroom and vegetables. Mushroom is a powerful source of nutrients,  it is a natural medicine which gave relief from high cholesterol level,  breast cancer and diabetes.  It also helps for weight loss and increase the strength of our immune system. In other hand,  stir frying is a quick and easy way to cook vegetables without loss of nutritional value, because it's not over cooked in this recipe….
Ingredients:
Mushroom chopped – 1 cup
Carrot chopped -3/4 cup
Beans chopped – 3/4 cup
Capsicum chopped – 1 cup
Onion chopped – 1 medium size
Ginger crushed -1 tsp
Garlic crushed –  1 tsp
Chilly powder -1/2 tsp
Pepper powder -1 tsp
Tomato sauce 2 table spoon
Soya sauce – 1 table spoon
Butter/oil – 2 table spoon
Honey – 1 table spoon
Coriander leaves – for garnishing
Salt – to taste
Method of Preparation: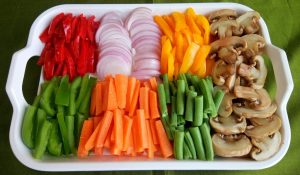 Cut all vegetables and Mushroom in same size and thickness as shown in the image,  which helps to cook all ingredients evenly.

Heat butter or oil in a non-stick pan then add onion and saute it.  Add crushed ginger and garlic saute it for a few minutes.

Now add chilly powder,  pepper powder, tomato sauce,  soya sauce, mix it and stir well.  Saute it antil it lost its raw smell.

Add carrot and beans into the pan first,  which takes more time to cook. After few minutes add mushroom mix it and stir for next one to two minutes.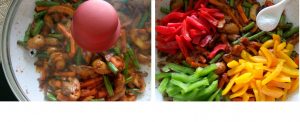 Close the pan with a lid and let the mushroom, carrot and beans to cook for five minutes.  Now open the lid and add chopped capsicum and salt to taste mix all the ingredients and stir next two to three minutes in high flame,  do not cook capsicum for a long time it should be crunchy.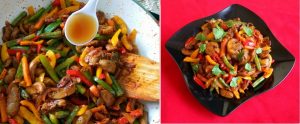 Pour one table spoon honey for glazing  and sweetness. Turn off the heat and garnish with coriander leaves.  Serve hot and enjoy……!