Kerala Chemmeen Curry is one of the most popular dish in Kerala. Prawn (chemmeen) is easily available in Kerala, and we can see lot of Chemmeen dish in Kerala. Kerala Chemmeen Curry in coconut is a north kerala dish and some time it is called as Malabar chemmeen curry or thenga aracha chemmeen curry. Prawns in coconut gravy, a good combination with rice, chapatti etc.  Prawn curry in ground coconut is one of my special and favorite curries with rice. Now let us see how to cook Kerala Chemmeen curry in coconut gravy.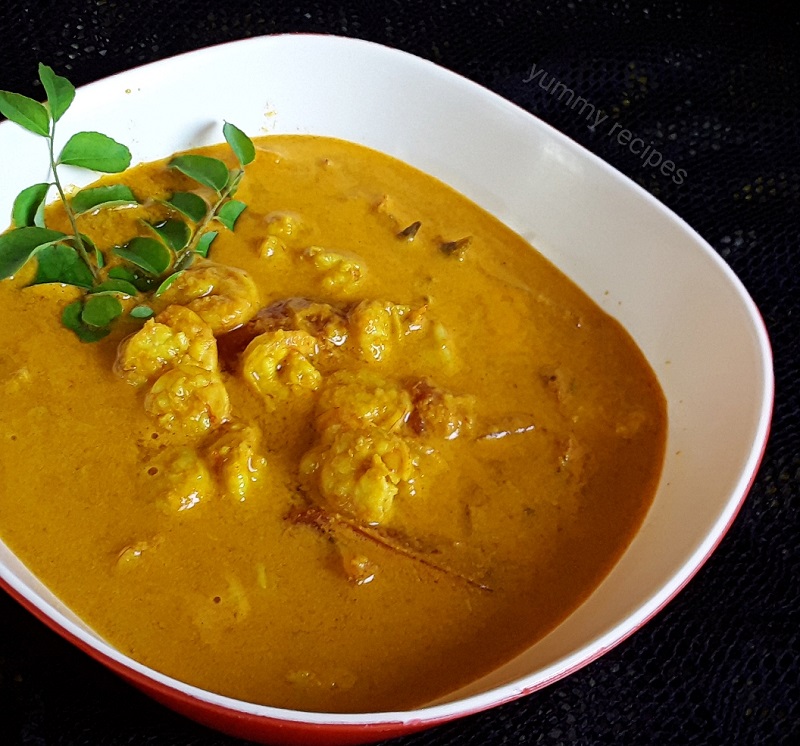 Prawns are a good source of unsaturated fat. Prawns are usually found in all countries. There are two types of prawns. Similar ones and bigger ones it's called as tiger prawns. Lets starts making prawns curry in a very simple way.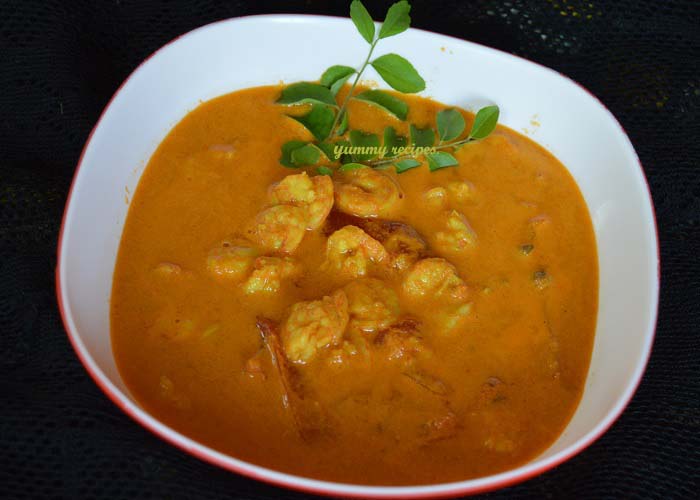 How to Make Malabar Chemmeen Curry
Now let us see how to make this tasty and delicious Chemmeen curry. Below I have given the list of ingradients and  step by step instruction with photos to make this Chemmeen Curry
Ingredients
Prawns 1 cup
Tomato 1
Garlic chopped 1
Tamarind pulp 1 lemon size
Grated coconut ¼ cup
Turmeric powder ½ teaspoon
Red chili powder 1 table spoon
Curry leaves 1 spring
Water 2 ¼ cup
Salt to taste
Step by step Instructions for making Chemmeen curry
Soak tamarind pulp in water.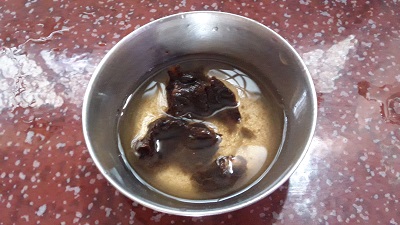 Add sliced tomato, chopped garlic, turmeric powder and water in a clay pot.

Allow it to boil. Once it starts boiling add cleaned and washed prawns.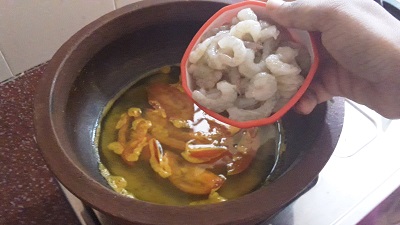 Add salt to taste, close the lid and cook for 2 minutes in medium flame.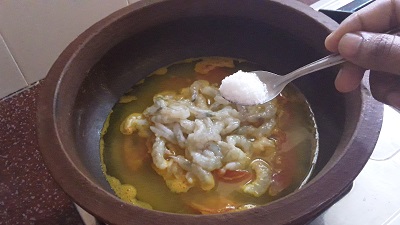 In this time we want to make coconut paste. In a blender add grated coconut, red chili powder and water. Blend it well and make a fine paste.

Then pour the coconut paste in to the prawns.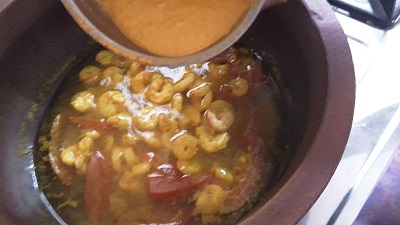 Also add little more water and tamarind water. Cook in medium flame.

Check the salt and add curry leaves. Cook for 2 minutes in low flame.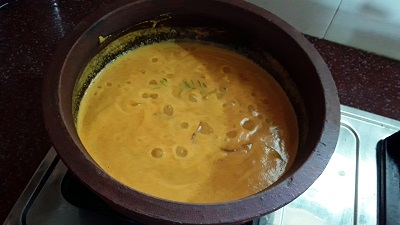 The tasty and simple prawns curry ready to serve with rice. Enjoy cooking