Chundal is a classic south indian recipe made from Chick peas.  You can make use of black or kabuli channa.  Channa is otherwise called as Garbanzo beans, chick peas, indian pea or hummus.  It is a type of legume.
 It is served as a street food in Tamil nadu.  You go to Marina beach, you can see people selling sundal on all four sides.  Some of them serve sundal with raw mangoes.  It tastes really good.  My mother in law also makes tasty sundal by adding raw mangoes.
But here I have made this sundal using Kabuli channa (white channa) and since I didn't have raw mangoes I haven't used any.  The older the beans are the more time it will take to get cooked.  When you cook you should always take care of how much quantity you want because one cup of beans will be equivalent to around 2 1/2 cups of beans when cooked.  So based on that you have to soak your beans.  Also when you clean the beans you can discard the damaged ones.  Put the beans in a bowl and add enough water.  Slightly stir them with your hands and leave it. The ones that float on top can be discarded.
This is a very nutritious recipe.  You can also serve it as a snack recipe for your kids.  It is rich in proteins. Usually I add it to my daughter's snack box or lunch box once in a week.  It is not necessary that sundal can be made only using chick peas. You can also use peas, black eyed beans, peanuts and so on.
Garbanzo beans (soaked and cooked ) can be used for making variety of salads by adding garlic and mayonnase.  You can also make garbanzo sprouts. When you sprout a legume, its nutitional value increases.  I have seen my mother making green gram sprouts, garbanzo sprouts and many others. Whenever she makes use of any legume it is sprouted and made use of.  She tells me that this increases the nutritional value.   Leave these things apart.  The recipe goes like this………..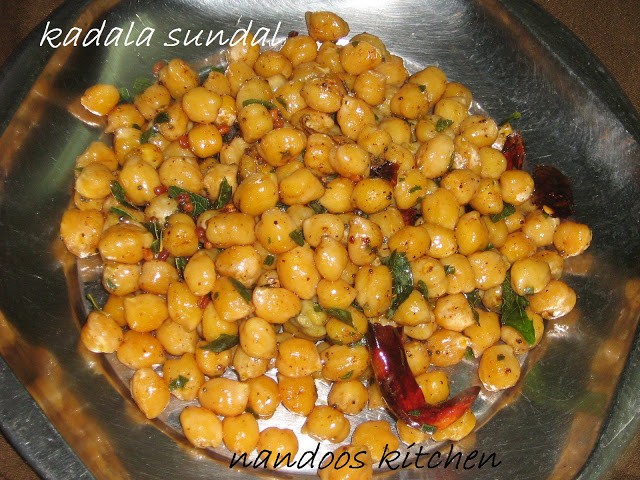 Ingredients required
Chick peas                         – 1/2 cup
hing                                   –   a pinch
mustard seeds                    –   1 tsp
urud dal(split)                    –   1 tsp
chilly powder                     –  1/2 tsp
curry leaves
salt
grated coconut                    –  1 tbsp
red chilly (or green chilly)  –  3
oil
Method
1. Soak the channa over night or for 8-10 hrs.  Wash it and strain it.  Keep it aside.
2.   Pressure cook the channa till it becomes soft.
3.  Strain the water and keep it aside.
4.  In a pan heat oil, splutter mustard seeds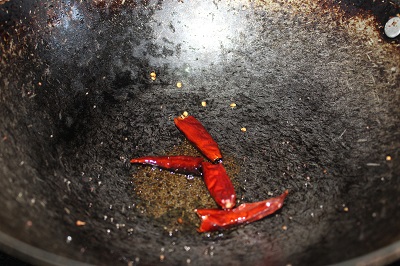 5.  Then add urud dal, dry red chilly, red chilly powder, grated coconut and curry leaves.  Saute for some time.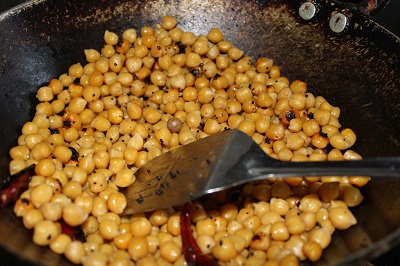 6.  Then add the cooked channa, salt and mix nicely.
7.  Serve it hot.
Tips
1.  You can make variations to this by adding raw mango, carrot (grated) or onions
2.  If the channa is properly soaked (around 8-10 hrs) then you can add salt to it while pressure cooking so that it will not get over cooked.  Other wise add salt at the end
3.  Adding coconut is optional.  This tastes well without coconut also.
If you find this post useful, I would be happy if you can share it with your friends in google+, facebook or twitter.  All you have to do is click the corresponding button..