Today, I am sharing an instant dosa recipe.  We all know that ragi is very rich in calcium and today's recipe is a healthy yet tasty ragi dish.  It is nothing but dosa made with ragi.  Now you may think – Dosa ? It needs soaking, grinding, fermentation.  Lot of process.  But today's recipe is a very easy, healthy and instant dosa recipe which can be made within a very few minutes.  Just mix all the ingredients and that's it.  Make dosa.  This dosa inspite of being a healthy dish, is very tasty also.  Do try it out.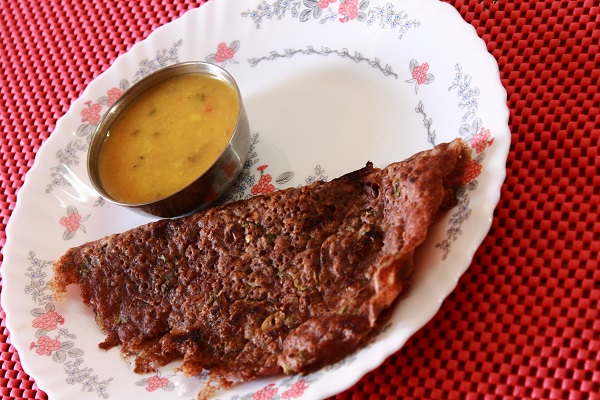 Ingredients required
Ragi flour  – ½ cup
Wheat flour  – ¼ cup
Rice flour    – ¼ cup
Onion  – 1 (finely chopped)
Green chilli    – 1
Curry leaves   – 1 sprig
Cumin seeds   – 1 tsp
Salt  – as needed
Buttermilk  – 1 cup
Water  – as req.
Method
In a bowl, add ragi flour, rice flour, wheat flour, chopped onion, green chilli, curry leaves, cumin seeds, salt .  Mix it well.
Now add buttermilk and required amount of water to get a thin batter.
Heat tawa, grease with oil. Pour batter as we do for rava dosa.  (batter should be evenly spread and thin. ) Drizzle oil around the edges.
Once cooked on one side, flip it to the other side and let it get cooked on other side too.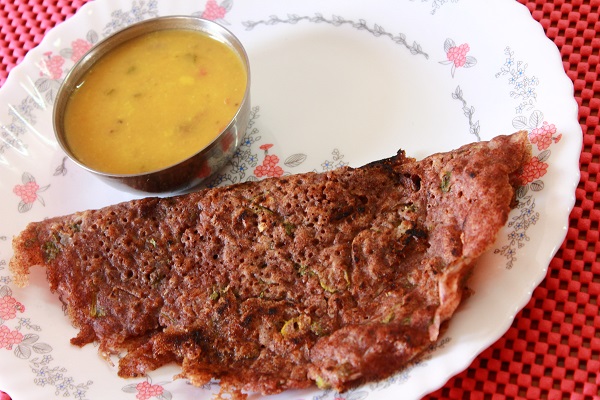 Tips: 
If you don't like the sourness of curd, you can also make use of water instead of curd.