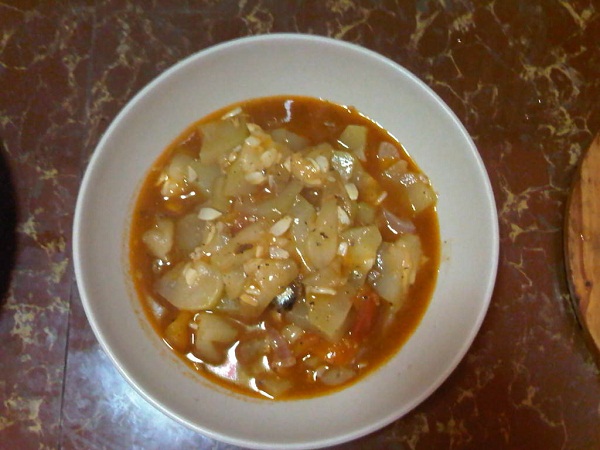 Looking for an easy, healthy but delicious Filipino food? Ginisang upo with sardines is a simple and healthy vegetable dish. Upo or white squash is as well known vegetable in the Philippines. This vegetable is used in many Filipino dishes.
Ginisang Upo is perfect for health conscious individual. People trying to lose weight will definitely love this recipe not only because it is healthy but also quick and easy to make. This is a recipe worth trying and you cannot go wrong with this veggie dish.
Filipino dishes are often high in fats, salty and oily. Our popular dish adobo is a good example of salty and oily dish. If you are tired of the usual salty and oily dish, why not give this recipe a try. This common Filipino dish is tasty that you will ask for more. Best of all, white squash or upo is so common in the Philippines that almost all supermarkets and local markets sell upo.
By the way, you can use any brand of sardines for this recipe. Ligo, 555 or whatever sardines available in your pantry. It also doesn't matter if you use hot or regular sardines. In other words, it is up to you what brand or flavor of sardines to use for this recipe.
Aside from sardines, it is also optional to add misua. The sauce will be a bit thicker and will make the dish even more delicious. I sometimes add misua but for this recipe, it is best not to add the small noodles.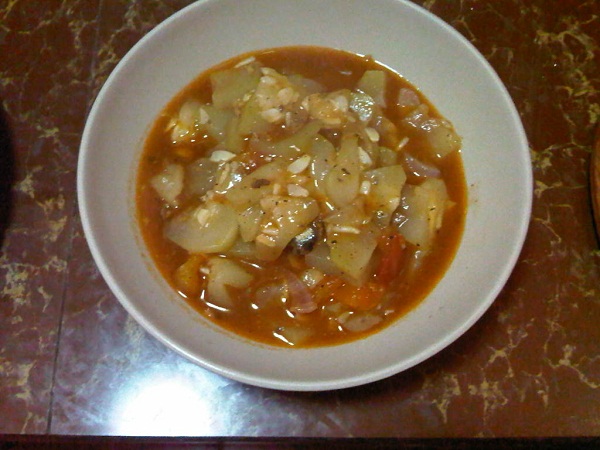 Ginisang upo with sardines or sardinas is perfect for breakfast, lunch and dinner. This dish is also great to eat bread or rice, whatever you prefer, the choice is yours. But, filipinos are rice eater so it is seldom to see a pinoy eating this dish with bread.
Here's the recipe for ginisang upo with sardinas, please let me know what you think as i love hearing from people who have tried the recipe. I also urged even the critics to leave a comment on the comment section, just be gentle with me. LOL…
Ginisang Upo with Sardinas
Ingredients:
1 white squash or upo, peeled and sliced
1 can sardines
2 cloves garlic, crushed
2 pcs tomato, chopped
1 small onion, chopped
Oil
Pepper to taste
¼ cup water
How to Make Ginisang Upo with Sardinas
Direction:
Prepare the all the vegetables such as white squash, tomatoes and onion. Peel and cut the white squash in small squares then set aside.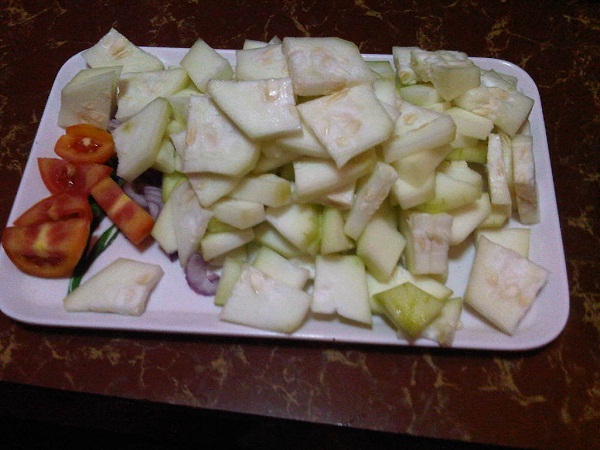 Open the can of sardines or sardinas.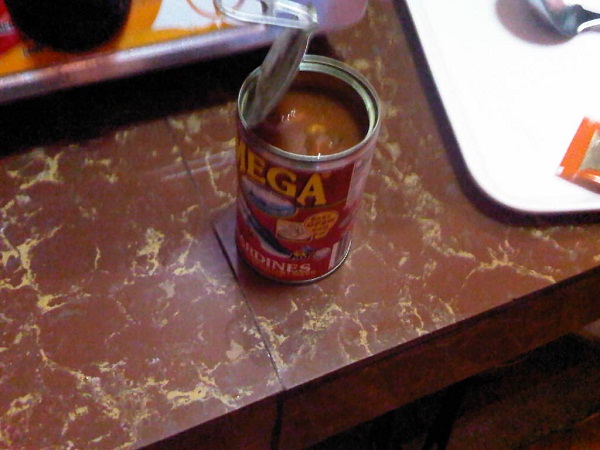 Sautee onion and garlic until fragrant. Next, add the tomatoes.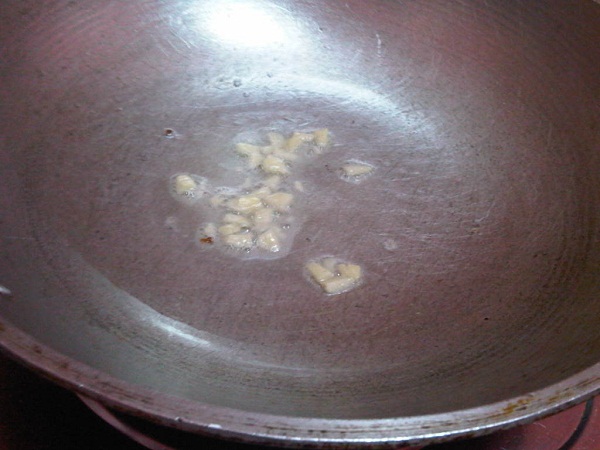 Put in into the pan the white squash. Stir and cook for 3 minutes.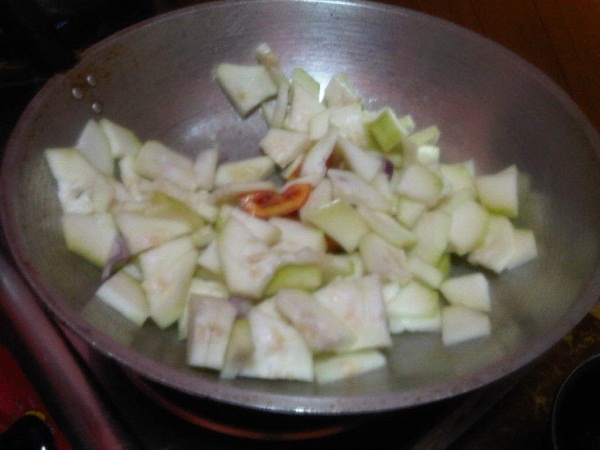 Cook the vegetables for about 5 minutes or until the vegetable or upo is tender.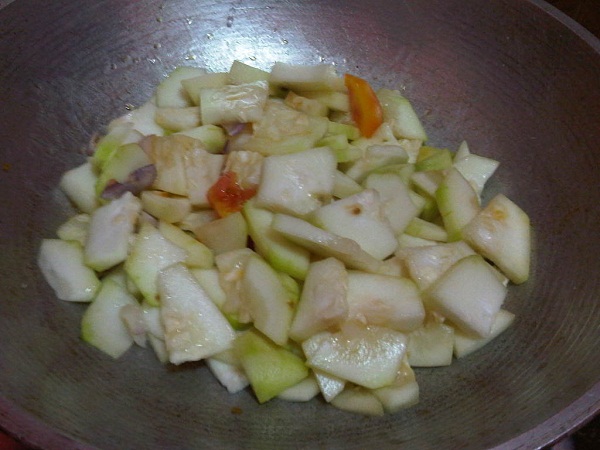 Next, add the sardines and water. Season with pepper. Cover and simmer for 2 minutes.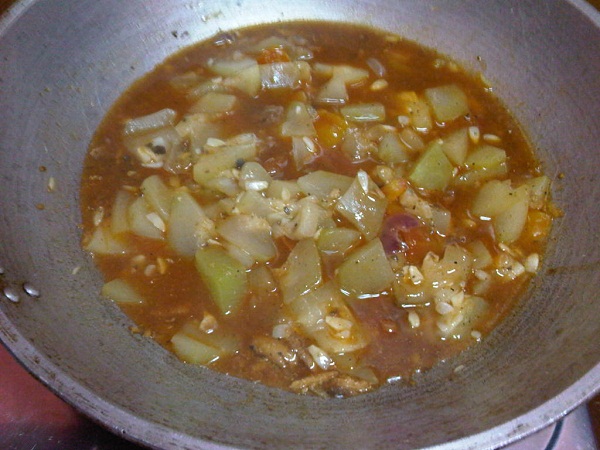 Remove from heat pan and transfer to a serving dish.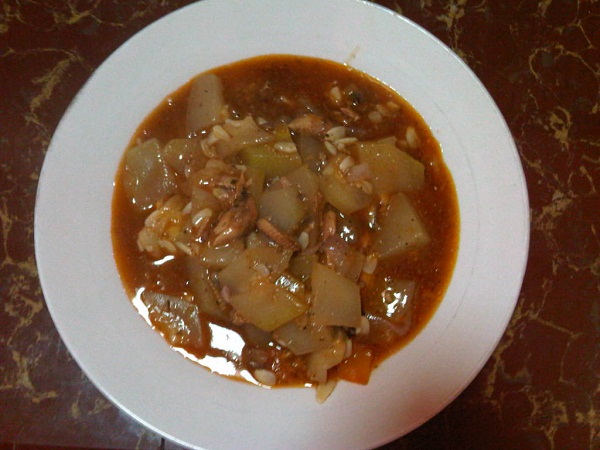 Serve with steamed rice or fried rice.
This recipe is good for 3 to 5 people. I would often pair this dish with fried fish. Ginisang upo with sardines is definitely easy on the budget. So, mom and dad, here's another recipe to try to save you money.
By the way, you can add vegetables like pechay or cabbage to make it even more healthier. Adding ground pork to make the dish tastier is also another option.
Thank you for checking out my ginisang upo with sardines. Don't forget to bookmark this page to save the recipe on your computer. Feel free to browse other recipes on this page. Tons of recipes on filipino dishes, pastas and seafoods are available and waiting to be discovered. The endless recipes are just waiting for you so discover them now.
Have a nice day and happy recipe hunting!