Oreo Popsicle is an easy, quick and yummy dessert that anyone can try. You just need a few ingredients, toss it in a mixing bowl, freeze and voila, you got a quick fix for your sweet cravings. For those who love Oreo cookies, this recipe is for you. Kids and kids-at-heart would surely love this one. You can also let your kids join you when making these yummy treats. Let's get started.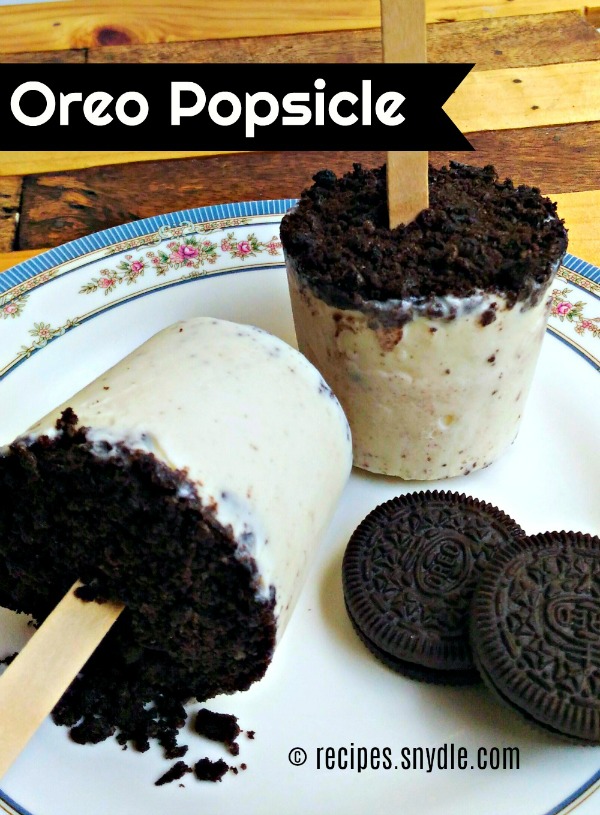 In this Oreo Popsicle recipe, you will need:
Ingredients:
2 cups whipping cream
½ cup condensed milk
½ cup fresh milk
2 tbsp. sugar
Crushed Oreo
1 tsp. Vanilla extract
How to Make Oreo Popsicle

1. Chop and crush Oreo cookies. Set aside.

2. In a mixing bowl, combine whipping cream, condensed milk, fresh milk, sugar and vanilla extract. Stir and mix well.

3. Then, add some crushed Oreos.

4. Pour the mixture into a Popsicle mold. If you don't have popsicle mold, you can use beakers or paper cups like I did.

5. Refrigerate for 1 hour.

6. Using a rolling pin, crush oreo cookies. You can also use food processor to make it even finer.

7. After one hours or after the mixture harden a little, put ground Oreo cookies on the top. Then put your Popsicle stick. Freeze overnight.

7. When serving, dip the cup in warm water for 10 seconds. Then pull it out.