Coconut Ladoo – Coconut Sweet Balls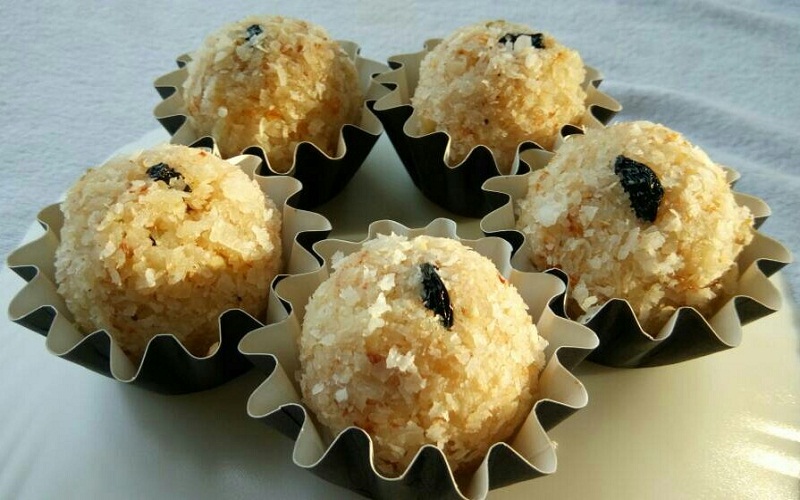 Coconut Ladoo, which is one of the simple and easy to make sweet item in Indian sweet recipe. You can make this with fresh coconut or desiccated coconut, even frozen coconut can be used. Generally only the white part of coconut is used to making this coconut balls. You can make this and keep it in fridge for three to four days. In India some places make this as offering food item at time of festivals. Normally house wifes loves to make this, because it is very easy, simple and very tasty sweet dish. I prefer to make this in our home more than buying from shops because you can feel the real taste of it so, please give a try.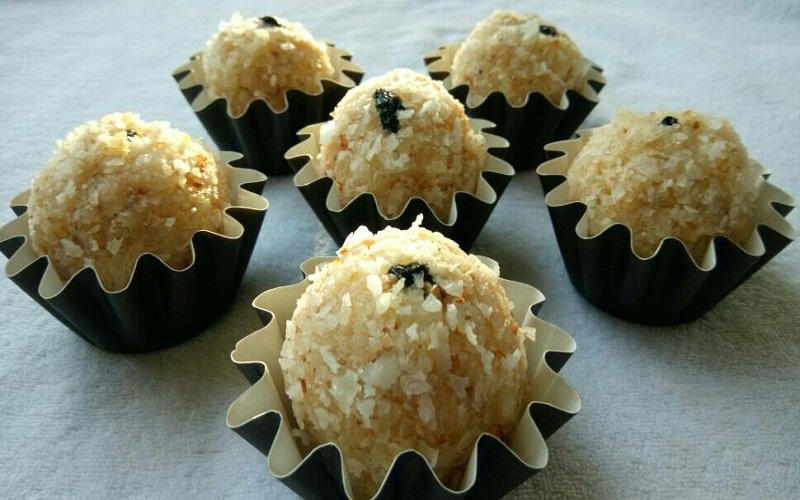 Ingredients for making Coconut Ladoo
1. Coconut – two cups
2. Condensed milk – half cup
3. Ghee – one tablespoon
4. Cardamom powder – half teaspoon
5. Cashew nuts choped – 1/4 cup
6. Raisins – two tablespoon
7. Dessicated coconut – for rolling
You can use dessicated coconut for making ladoo, here I took freshly grounded coconut for making these laddu which increase the taste.
Method of making Coconut Balls

Take fresh two cups of coconut in a dry pan or thick bottom vessel toast this coconut for five to six minutes in medium flame

When the coconut lost the water content and become dry, add cardamom powder into it. You can powder cardamom along with sugar to get fine powder.

Pour condensed milk into the pan and mix it well for few minutes

Now pour the ghee into this mix, and mix it. Add chopped cashew nuts into it.

Add raisins to the mix and cook till it leaves the sides, once it done remove it from the pan to a bowl

Allow to cool the mix, grease your hands with little ghee and shape the mix in balls. Take dessicated coconut in a plate and roll the coconut ladoo till it coated.
You can keep this in refrigerator in a air tight container. Remove it keep out side for one hour from fridge before serving.