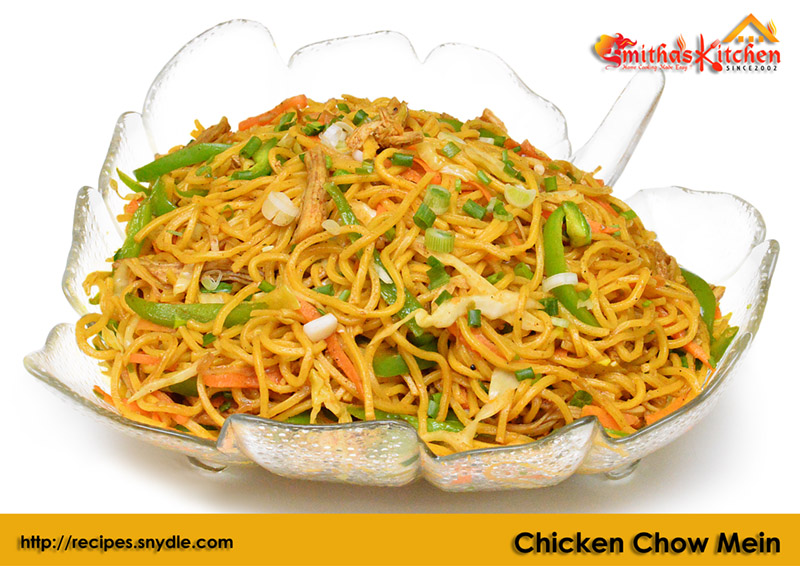 Chow Mein simply means 'stir-fried noodles'. This dish is one of the popular items appears in the menu of all Chinese restaurants using chicken breasts and chow mein, one of the most popular Chinese recipe can be made at home even by a beginner.
INGREDIENTS :
Wheat Noodles – 400 gm
Chicken Breast, boneless and skinless – 2 pieces
Onion – 1, small
Capsicum – 2 medium, cut into thin strips
Carrots – 2 medium, cut into thin strips
Cabbage, cut into thin strips – 1 or 2 cups
Spring Onion, chopped – 1 handful
Soya Sauce – 3 tbsp
Tomato Sauce – 2 tbsp
Chilli Sauce – 1 tbsp
Vinegar – 1 tbsp
Curry Masala Powder – 2 tsp
Black Pepper Powder – ½ tsp
Oil – 3 to 4 tbsp
Salt – to taste
METHOD OF COOKING :
Cook the chicken breast in boiling water adding little salt and black pepper powder. When it cools, take out from the broth, cut into small strips and keep aside. Do not drain the chicken broth. We can use the same broth for cooking the noodles.
Cook the noodles for 3 minutes in a pan of boiling water adding the chicken broth until 90% cooked or as per the instruction written on the packet. Drain the broth and transfer them into a big strainer, then rinse them under cold running water, and drain again.
Drizzle few drops of oil, and toss gently to prevent them from sticking.
Heat oil in a wok, add onion and saute well until it turns translucent.
Add cooked chicken strips and stir fry on high flame for 3 to 5 minutes until all the moisture gets evaporated.
Add soya sauce, tomato sauce, chilli sauce, vinegar and toss well.
Add cooked noodles, sprinkle the curry masala mix, salt and stir well for 2 minutes on high flame.
Add capsicum, carrots and combine well. Continue toss them on high flame for another 1 to 2 minutes. Do not overcook the vegetables. They should remain crunchy.
Finally, add cabbage, spring onion, black pepper powder and combine well.
Switch off the flame and serve hot.