Today's recipe is a very healthy thoran made with green gram and fenugreek leaves.  Thoran as I have already told you, is a traditional Kerala dish made with vegetables or with lentils and a coconut mixture.  It is a very tasty side dish that can be served with rice and any other curry of your choice.  At home we all love thoran and I try to mix various vegetables along with it to make it more healthy.  Today's recipe is one such healthy dish made with green gram and fenugreek leaves.
In Indian houses, both fenugreek leaves and fenugreek seeds are made use of in parathas, dal and so many other dishes.  I have made use of fresh fenugreek leaves.  Fenugreek leaves are a very good source of iron and is supposed to increase hemoglobin content in blood.  It is a good source of vitamin K, protein, and nicotinic acid.  Inspite of all these health benefits, people do not prefer fenugreek leaves because of its bitterness.  But in this recipe, fenugreek leaves are mixed with moong dal and coconut, which reduces the bitterness to an extend.  Now to the recipe..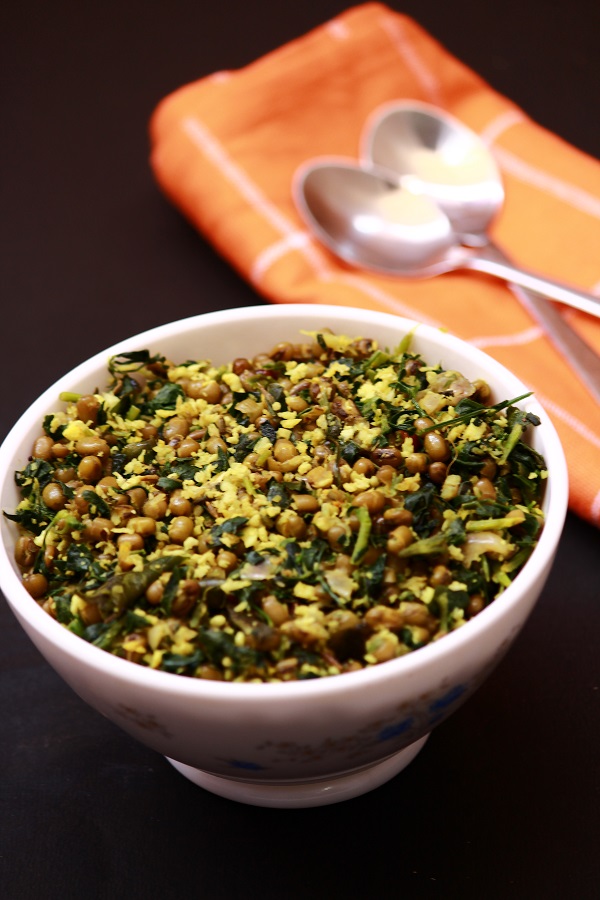 Ingredients required
green gram  – 1/2 cup
fenugreek leaves  – 1 1/2 cup (finely chopped)
For grinding 
coconut (scraped)  – 1 cup
shallots / small onion  – 4 – 5
fennel seeds / perumjeerakam – 1/2 teaspoon
turmeric powder  – 1/4 teaspoon
garlic  – 2 (optional)
green chilly – 2 – 3
For tempering
oil  – 1 tablespoon
mustard seeds  – 1/2 teaspoon
channa dal / kadala parippu – 1 teaspoon
curry leaves – few
dry red chilly  – 2
Technique
1.  Wash and soak green gram / moong dal in 3/4 cup of water overnight or for 3 – 4 hours.  (I soaked it overnight)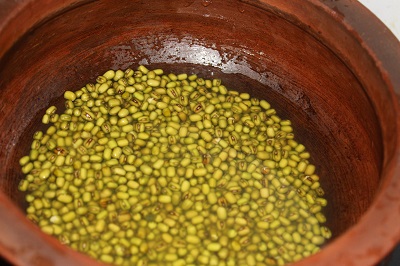 2.  In a pan, heat oil.  When oil is hot enough, splutter mustard seeds.
3.  Then add curry leaves, channa dal, dry red chilly and saute on low flame till channa dal turns brownish in color.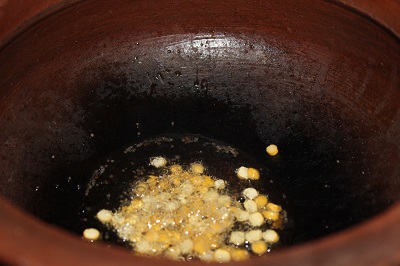 4.   Then add the soaked green gram / moong dal along with the soaked water and then  add 1/4 cup of water extra, salt and cook it in low flame till it cooks well.  Keep stirring in between to avoid sticking to the bottom.  (You can add more water if necessary.  You can also pressure cook moong dal for 1 whistle and then add it accordingly.)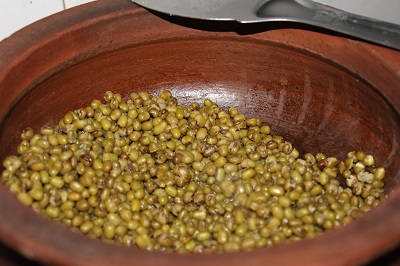 5.  Meanwhile, coarsely grind the ingredients given under "for grinding" and keep aside.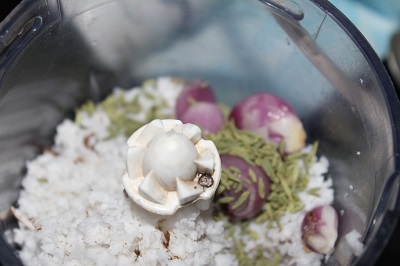 6.  Once the green gram is cooked well and the water is almost absorbed, then add crushed coconut paste to it, mix well, saute nicely for few minutes.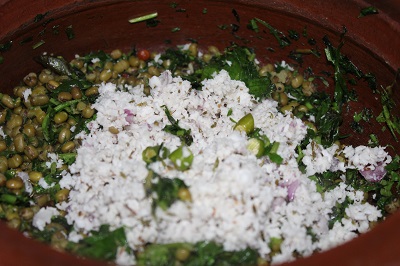 7.  Then  add the chopped fenugreek leaves, mix well.  Check salt.  Saute for 2 – 3 minutes on low flame until the water from the leaves ooze out and get evaporated.  Do not over cook the leaves.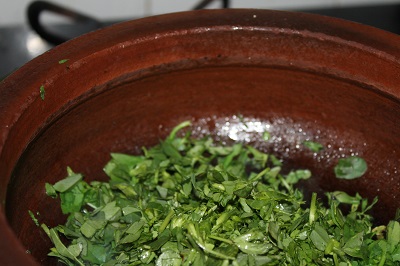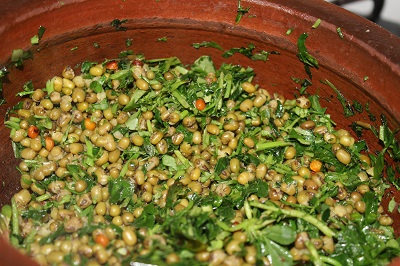 8.  Increase the heat and saute it for another 2 minutes to remove all the moisture.
9.  Thoran is ready.  Serve with rice and curry..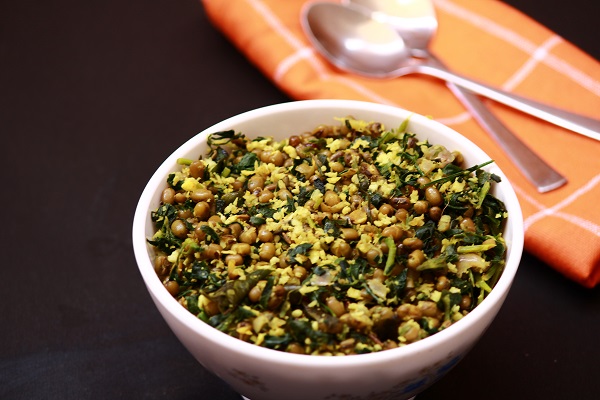 If you find this post useful, I would be happy if you can share it with your friends in google+, facebook or twitter.  All you have to do is click the corresponding button.