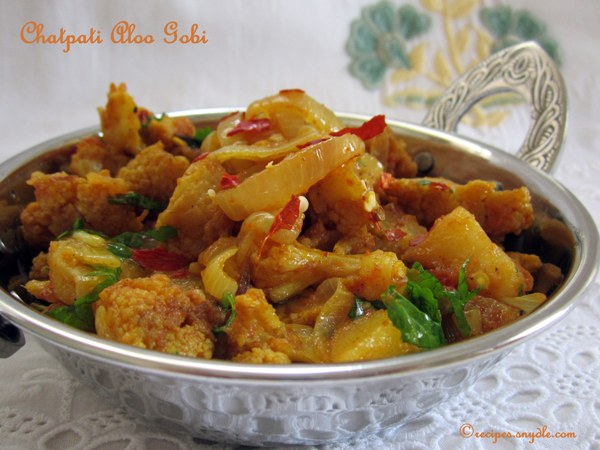 Hello buddies. After the sandwich madness, I am back to the usual cooking. Today's recipe is Aloo Gobi recipe. This is not just any other run of the mill Aloo Gobi Masala or Gobi Aloo preparation. Potato and cauliflower are my two of my favorite vegetables. Combining them together only does magic. The different technique of cooking this delicious side dish is what sets it apart from the usual aloo gobi.
The crispy potato and tender cauliflower florets are tossed in tomato-based gravy and delicately seasoned with spices and cooked to perfection, till the veggies are deeply laced with flavors. Hence, the name Chatpati Aloo-Gobi. Finally they are garnished with generous amounts of cilantro. I added some onion rings to the gravy while the veggies were still cooking. The sautéing and steaming makes the onion rings taste so good. Not to mention they render a great texture to the dish. Punjabi garam masala powder works wonders for this dish and it is easily available in the market as well.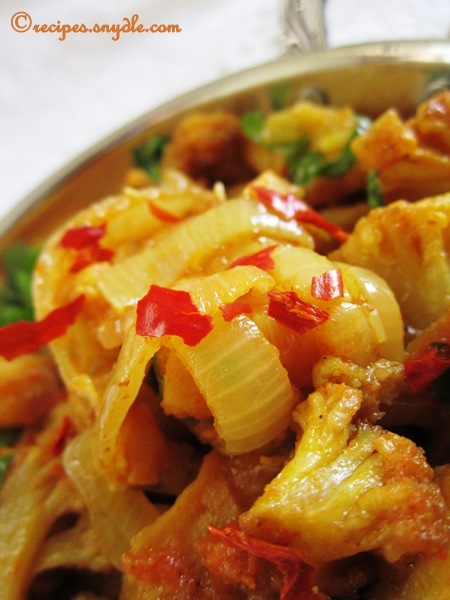 I used 1 part of potato and 2 parts of cauliflower. You can adjust the ratio as per your liking. This recipe will suffice for 3 to 4 persons. For the purpose of measurement, 1 cup = 250 ml. let us see how to make Chatpati Aloo-Gobi recipe.
Ingredients
Potato – 3/4 cup, cut into 1/2 inch dices
Cauliflower – 1 and 1/2 cups, cut into small florets
Oil – for deep frying
For Preparing the Tomato-Based Gravy
Cumin seeds – 1/2 tsp
Tomatoes – 3 medium, finely chopped
Onion – 2 small, cut into rings
Green chilies – 3, split lengthwise
Coriander leaves – a handful, finely chopped
Kashmiri red chili powder – 2 tsp
Turmeric powder – 1/2 tsp
Coriander powder – 1/2 tsp
Amchur powder / Dry mango powder – 1 tsp
Punjabi garam masala powder – 2/3 tsp
Salt – to taste
Oil – 3 tbsp
How to Make Chatpati Aloo Gobi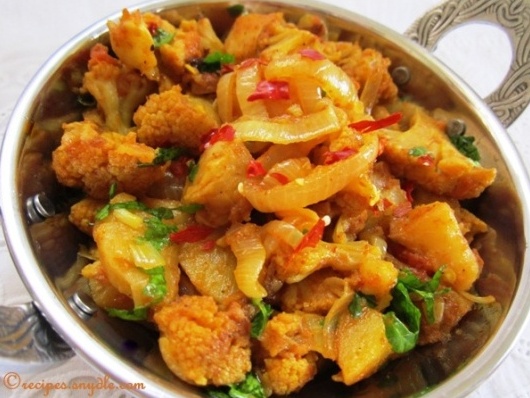 First of all, we need to blanch the cauliflower florets. Boil sufficient water in a saucepan and turn the flame off. Dunk in the cauliflower florets. Allow them to stand in hot water for 5 minutes. Remove the cauliflower florets in the colander and allow the water to drain out completely.
Now we will deep-fry the veggies till they are golden, crispy and 75 percent cooked. Heat sufficient oil in a skillet. Fry the cauliflower florets for about 5 minutes on high to medium heat. Fry them in 2 or 3 batches. The florets should not get soggy. They should look golden and pretty and 3/4th cooked. Remove them onto a plate. Set them aside.
Now deep-fry the dices of potatoes for about 5 minutes till golden and crispy on the outside. Remove them onto the plate as well. Keep aside.
Now we prepare the gravy and toss in the fried veggies and cook them in the covered pan. The reason we don't toss in the veggies raw is that they dish will smell weird. Frying the veggies crispy ensures that the dish doesn't turn out mushy.
Heat 3 tbsp oil in a pan or skillet. Add in the cumin seeds and allow them to sizzle. Add in the tomatoes and cook them for a minute of two, till the oil separates out. We do not need to mash or dry up the tomatoes. We just need to sauté them a bit to get rid of the raw smell.
Now when the oil has separated, add in the red chili powder, turmeric powder, coriander powder and some salt. Mix it around.
Toss in the onion rings and fried veggies and sauté the veggies on high heat for a minute. Add the Punjabi garam masala powder and amchur / dried mango powder and mix well. If it looks very dry, sprinkle some water; not much, just a tablespoonful of water.
Cover the pan and cook the veggies on low heat for 6 to 7 minutes till the veggies are cooked and the onion rings have softened a bit.
Add in the chopped coriander leaves and green chilies. Mix well. Turn the flame off after a couple of minutes. I sprinkled some chili flakes on top to make it look pretty.
Chatpati Aloo Gobi is ready to be served. Serve hot with roti or daal and rice. Enjoy.