Baked Brownie Pudding with Vanilla Ice Cream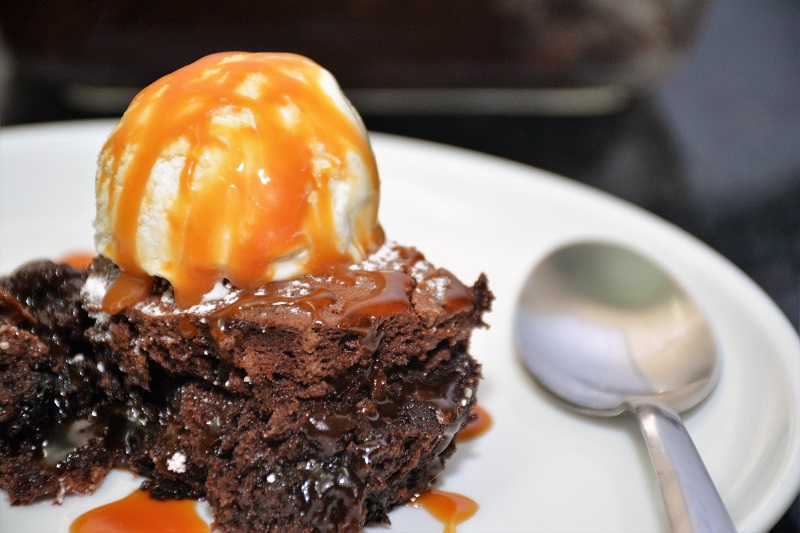 A pudding is a steamed or baked sweet dish or dessert served after the main course of a meal. Here I am introducing a different pudding which are going to satisfy your chocolaty cravings.  Brownies are a kind of chewy and fudgy dessert.  Brownie puddings are rather gooey and not set in the middle type.  When its baked, your will get a crusty and crunchy top, soft gooey middle and if you enjoy this with a scoop of Ice cream… Awwww….. Find heaven in there!!!!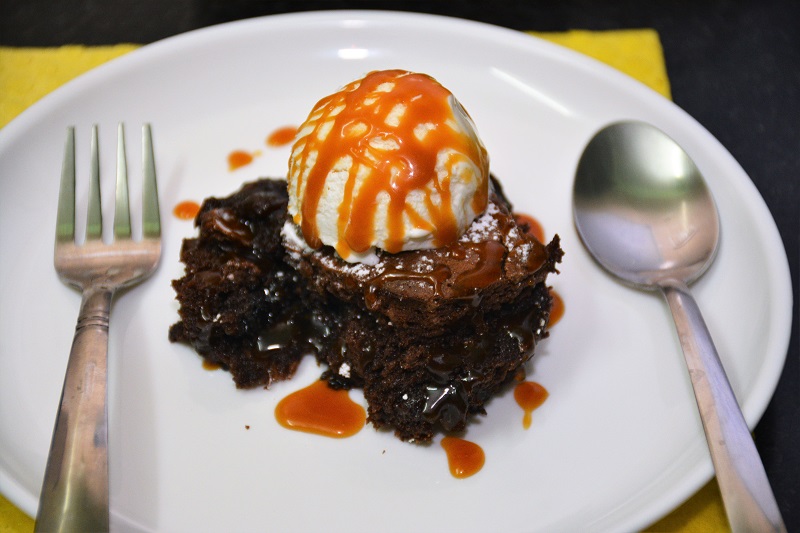 Ingredients – Baked Brownie Pudding:-
Butter – 110 grams
Granulated white sugar – ½ cup
Light brown sugar, packed – ½ cup
Cocoa Powder – ½ cup
Flour – ¼ cup
Eggs – 2, in room temperature
Chocolate chunks – ½ cup
Salt – a pinch
Vanilla Ice Cream – A scoop
Caramel Sauce – to drizzle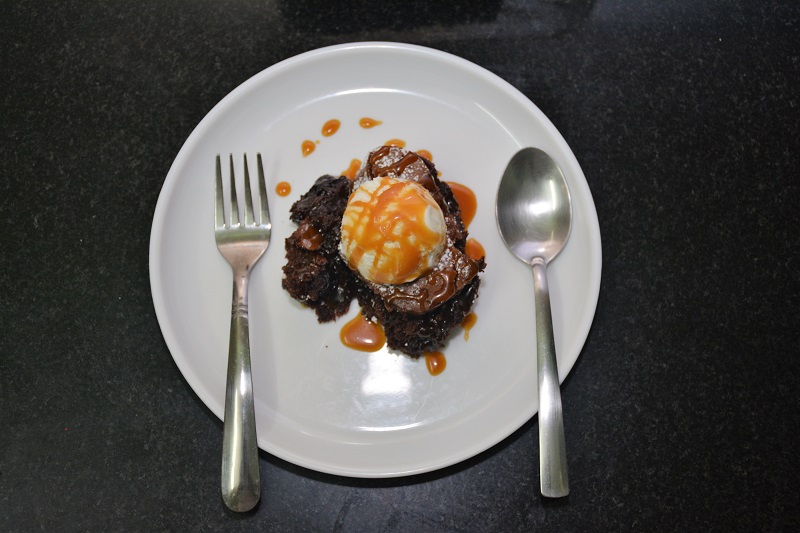 Method – Brownie Pudding
Melt butter in a microwave safe bowl and set aside to cool.

In a large mixing bowl, add both the sugars. If the granules are big, give a pulse movement in the mixer.

Add in two eggs and start beating with an electric beater until the mixture turns thicker. It may take 5-10 minutes.

Add in Vanilla and beat.
Sift cocoa, flour and salt into the batter. Mix on low speed just to combine everything together.

Pour melted butter and keep mixing in low speed.
Later throw in chocolate chunks and mix.

Fill the batter into the prepared tin and keep it on the bigger pan which filled half with boiling water.
Bake in the preheated Oven of 160 degree for about 30-40 minutes.

When its done, top portion looks crispy and crusty and inner portion will be soft and gooey..
This pudding is best enjoyed with a scoop of Vanilla Ice cream.