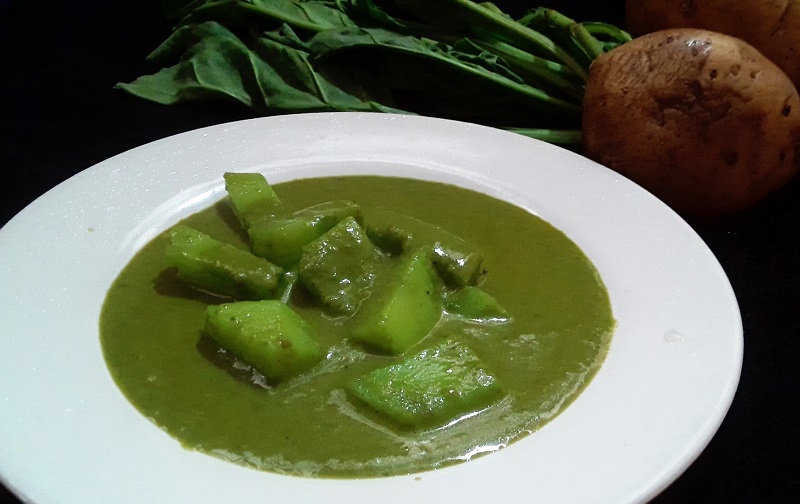 Spinach or palak is very famous leaf vegetable.  Palak is the richest sources of bone-supportive nutrients such as calcium and magnesium, which are very helpful in the bone development. Aloo palak recipe preparation is quite simple.
Potatoes are very good source of vitamin B6 and a good source of potassium, copper, vitamin C and pantothenic acid. Potatoes have anti oxidant activity.
Aloo Palak Recipe is an Indian dish. this  gravy is little spicy flavor. It is prepared by using boiled palak and potatoes. Aloo Palak Recipe preparation is quite simple.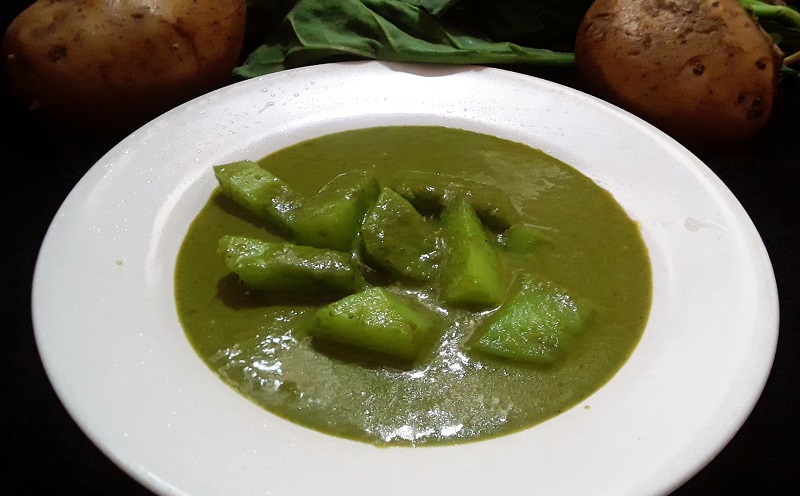 Ingredients For Aloo Palak Recipe
Potatoes 2 midium size
Palak juice 1 cup
Butter or ghee 2 table spoon
Cumin seeds 1 tspn
Garlic 4 cloves
Onion chopped ¼ cup
Tomato ¼ cup chopped
Turmeric powder ½ tspn
Red chili powder ¾ tspn
Coriander powder ½ tspn
Cumin powder ¼ tspn
Water ¼ cup
Salt to taste
Method For The Preparation Of Aloo Palak Recipe
Heat 1 tablespoon ghee in a pan, add cumin seeds. When it starts splutters add cloves in it. Sauté for 1 minute

Add chopped onion, saute until it's transparent.

Next add chopped tomato, cook for till the tomatoes are juicy.

Once the tomatoes cooked add masalas like turmeric powder, red chili powder, coriander powder and cumin powder. Mix for 2 minutes. Then keep it aside to cool.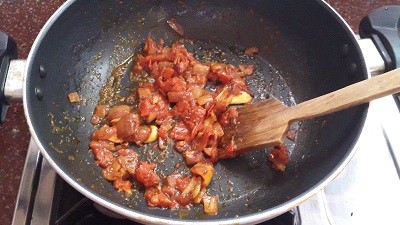 Put in a blender and make a fine paste with the help of little water.

Heat the remaining ghee in the same pan and fry diced potatoes for 1 minute.

Add little salt, mix it well. Close the lid and cook for 2 minutes in medium to low flame.

Once the potatoes are almost cooked add the masala paste mixture in it.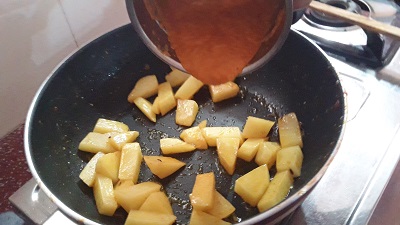 Add palak juice then , mix well.

After that allow it to boil for 3 minutes in medium flame.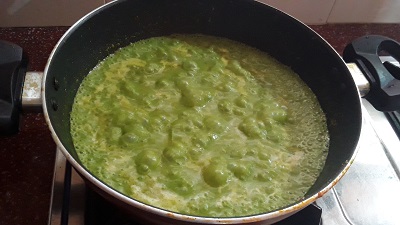 Switch off the stove and remove in to a serving bowl. The palak aloo curry/ Aloo Palak Recipe is ready to serve. Enjoy cooking.