Today I am sharing with you recipe for adai dosa or ada dosa as we tell in Malayalam.  It is my husband's favourite when paired along with avial (mixed vegetable curry – Kerala style). It also pairs with onion tomato chutney, coconut chutney or if you don't have any thing with jaggery or sugar. This is how my daughter always takes it – adai with a teaspoon of sugar or jaggery.   It is a protein packed dosa or a crepe with a combination of all lentils and rice.  Just like the normal dosa this adai dosa also requires a soaking process for 4- 5 hours.
Adai is usually prepared for breakfast and it is very filling and  healthy compared to the normal dosa.  Lentils contain high levels of soluble fibre which helps to reduce blood cholesterol levels.  It is a great source of folate and magnesium which again contribute to good health.  So friends try this healthy adai dosa.
You can also add around 2 table spoon of green grams to it.  It will give your dosa a slight greenish colour but it is really tasty and again the nutrition gets enhanced.  Some slight additions can be done with this which I have mentioned it along with the tips section.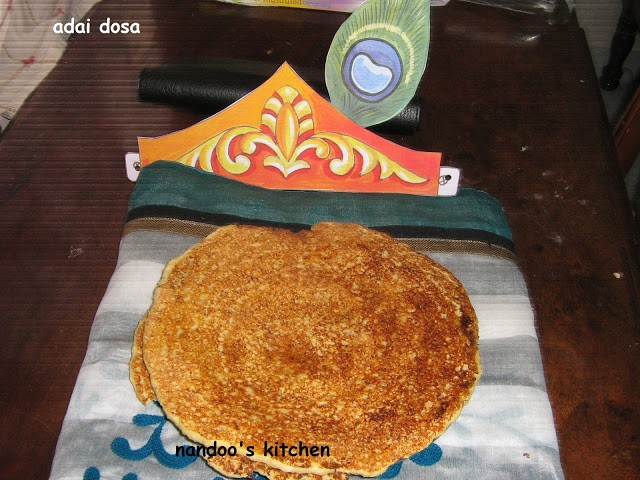 Ingredients required
 Raw rice                                   –  1/2 cup
idly rice (or par boiled rice)     –  1/2 cup
urud dal                                    –  1/2 cup
toor dal                                     –  1/2 cup
channa dal                                –  1/2 cup
green chillies                            –  2
red chilly                                  –  2
shallots                                     –  5 – 6
ginger                                       –  1 piece
grated coconut                          –  1/2 cup (optional)
asafoetida powder (kayam)      –  1/4 tsp
curry leaves (few)
salt  ( to taste)
oil
 Method
 1.  Soak rice and dal together for 4 – 5 hours.  Add enough water.  After 5 hours you can see that the water is absorbed.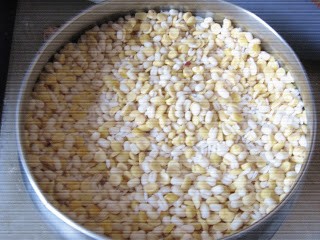 2.  Grind it coarsely along with all the other ingredients – shallots, green chillies, red chillies, ginger, asafoetida, curry leaves and scraped coconut.  You can omit the coconut if you don't want it.  It is optional.  Don't grind it finely grind it coarsely.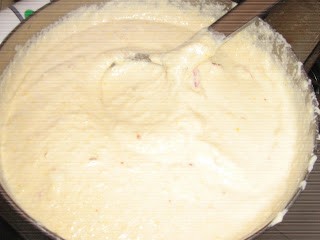 3.  Heat a griddle or a non stick tawa .  Pour a ladle of batter to it and slowly spread it in circular motion.  Add 1 tsps. of oil to it.  Usually gingerly oil (sesame seed oil) is preferred but if you don't have it you can use any other regular oil.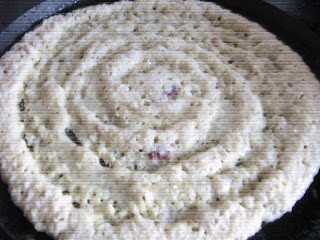 4.  Now slowly flip it to the other side and add little oil on the top spread it and then leave it for some time to get cooked.  Once both sides are cooked, remove it from tawa and serve it hot with chutney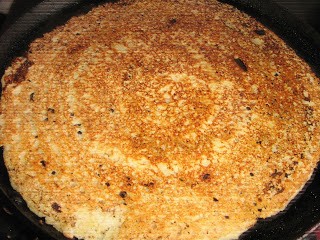 Tips
 1.  To enhance the nutritional value, you can add grated carrots also to this.  Also you can add finely chopped spinach leaves.
2.  You can also add a table spoon of moong dal (yellow or green to this)
3.  Coconut is optional.  A tsp.  of cumin can also be added.  I have added a tsp. of cumin in this.