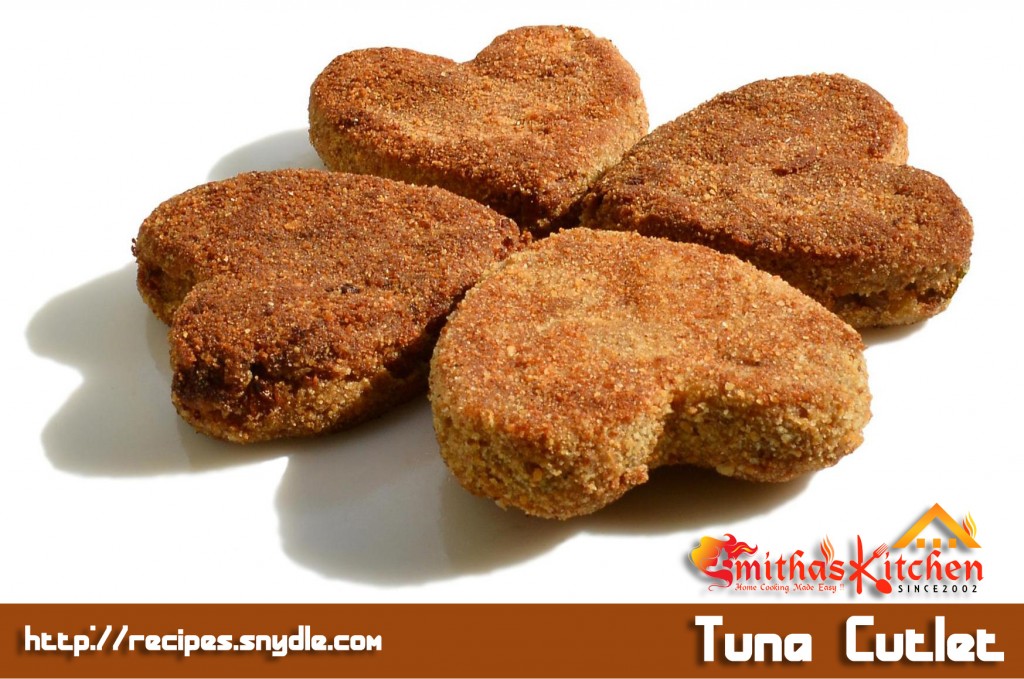 In the culinary arts, the term "Cutlet" is used to refer to a thin cut of meat usually taken from the leg or rib section of veal, pork or lamb. Chicken cutlets can be made from a thinly sliced and pounded chicken breast. Similarly, a Fish Cutlet can be made from the boneless thin slice of any kind of fish like Tuna, Kingfish, Hamour, Pomfret, Bluefin Trevally, Mackerel etc.
Cutlets are typically pan-fried, usually after dredging in flour and/or coating them in breadcrumbs.
INGREDIENTS :
2 x 400 gm cans of tuna (in brine or oil)
Onion – 3 nos, finely chopped
Green Chilli – 5 nos, finely chopped
Ginger, medium size – 1 no, finely chopped
Potatoes – 3 nos, boiled and mashed
Black Pepper Powder – 1 tsp
Turmeric Powder – ¼ tsp
Coriander Leaves – 1 bunch, finely chopped
Fenugreek Powder – ¼ tsp
Vinegar – 1 tsp
Oil – 4 tbsp
Breadcrumbs – ½ cup
Eggs – 2 nos
Salt – as required
Oil for shallow frying or deep frying
METHOD OF COOKING :
Heat 4 tbsp oil in a pan.
Add onion, ginger, green chillies and sauté them well till their fresh smell goes and they are little cooked.
Add drained tuna fish, turmeric powder, vinegar to it and mix well.
Add mashed potatoes, salt, pepper powder and mix well. (Do not add water to it. We have to make this mixture dry)
Switch off the flame, add chopped coriander leaves and allow it to cool. (Just check the taste and if additional salt is required, we can add as per the taste. We have already added salt while we cooked the fish. Canned tuna fish already has salt in it. So, be careful when adding salt again.)
Make small flat round patties.
Beat the eggs in a bowl and take bread crumbs in another plate.
Dip the patties in the beaten egg and then roll them in the bread crumbs.
Deep fry the patties in oil until they are light golden brown or shallow fry them carefully and turn as each side gets light golden brown.
The cutlets are ready when they are crispy and light golden brown on both sides.
Serve hot with tomato ketchup.
Recipe No. 313