How to make Soya Bean Kebabs with step by step pictures.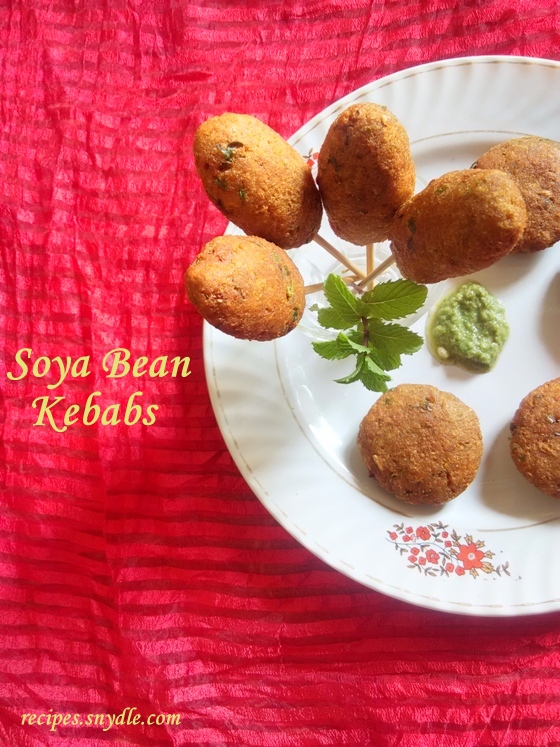 Kebabs are usually made of lamp meat and a popular appetizer served in the parties. Here's a appetizing soya bean kebab recipe for the vegetarian eaters delight. Soya bean are the best substitute to meat and fish.Recipe of soya bean kebabs are the easy and simple to make recipe. If you want to switch to vegetarian diet than soya bean is the great protein source to include in your vegetarian diet.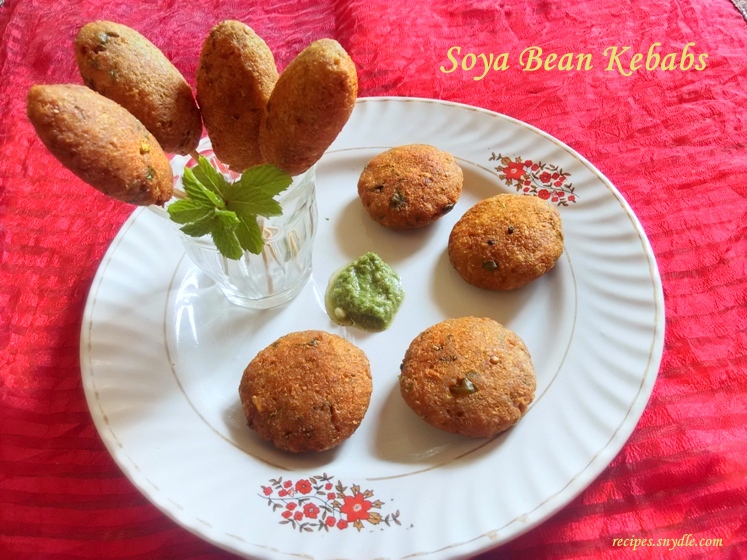 Soya bean kebabs are made with soaked soya chucks tagged along with some spices. The marinade of soya bean kebabs includes garlic and green chili paste, red chili powder and turmeric powder which provides spicy flavor to the kebabs. I personally like spicy dishes, so you can increase or decrease the spices accordingly. Besan/Bengal gram flour performs the role of binding agent. Lemon juice adds to the flavor. To get juicy marinate allow it to rest for 30 minutes.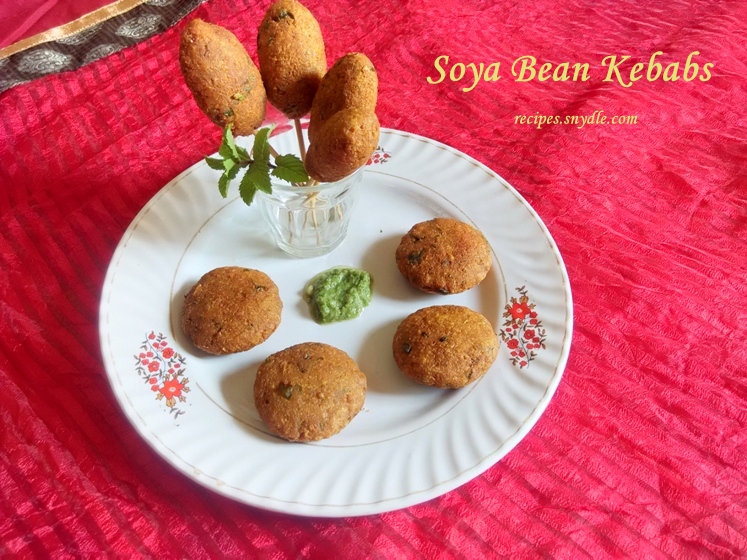 Soya bean seekh kebab recipe contains the same marinade as the soybean ke kebab. The sane marinate is applied on the seekhs. I have deep fry the kebabs but you can grease it with oil and cook them on charcoal fire. Kids love burgers, so you can use soya bean kebabs as burger patties to boost them with high proteins.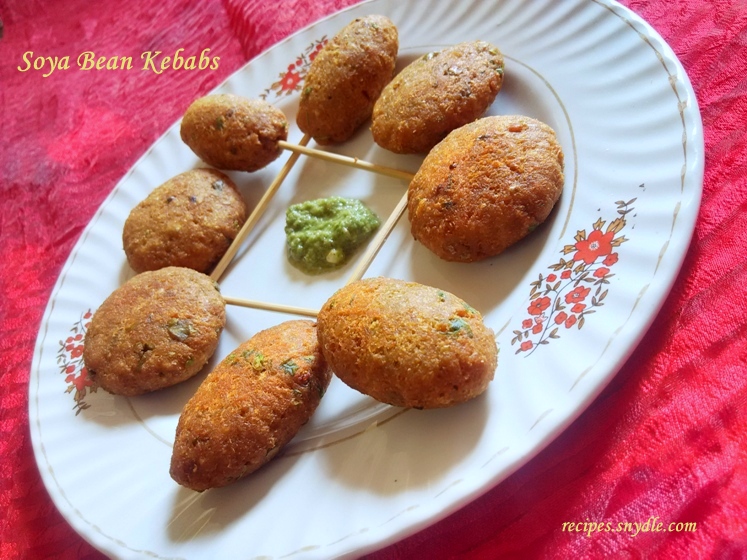 There are many benefits of soya beans. Soya bean contains high protein, helps to maintain cholesterol level, and prevents from cancer. All vital amino acids are incorporated in soya beans. Most of the vegetables lack complete proteins. Soya protein is said to be equivalent to the animal proteins by WHO. Soya helps to absorb the calcium and vitamin D equal to milk. It is great source of omega 3 and fiber. Reduces fat, cholesterol , risk of osteoporosis and breast cancer.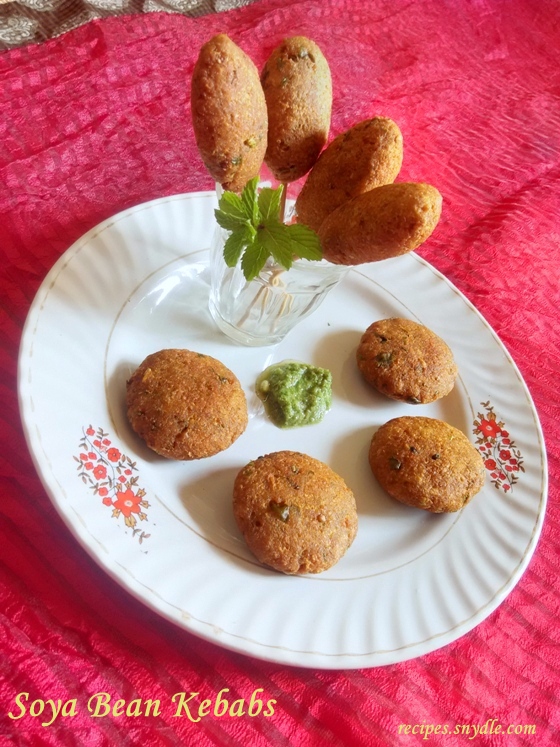 Soya Bean Kebabs yields 4 servings. For the purpose of measurement, 1 cup = 250ml.
Ingredients
Soya bean – 3 cups
Garlic and green chilli paste – 1 tbsp
Red chilli powder – 1/2 tsp
Turmeric powder – ½ tsp
Lemon juice – 2 tbsp
Coriander leaves – hand full, chopped
Besan/Bengal gram flour – 5 tbsp
Salt – To taste
Other items
How to make Soya Bean Kebabs.
Place soya bean chunks in boiling water and boil it for 5 minutes.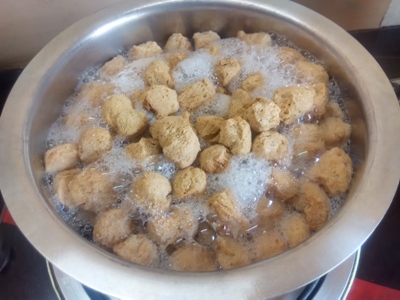 In the meanwhile grind the garlic and green chilli paste.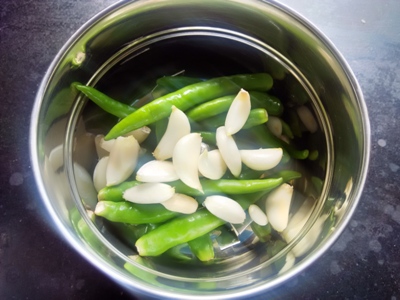 After 5 minutes off the flame when the soya bean chunks is soaked well.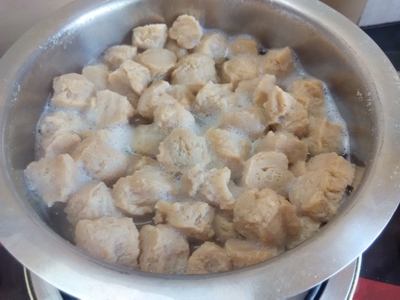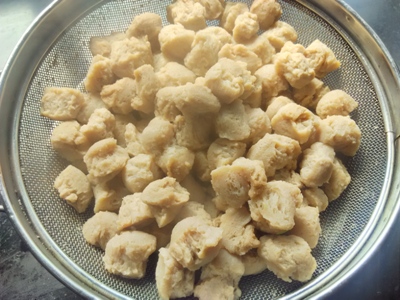 Now place the soaked soya bean chunks in grinder and grind coarsely. Do not make a smooth paste.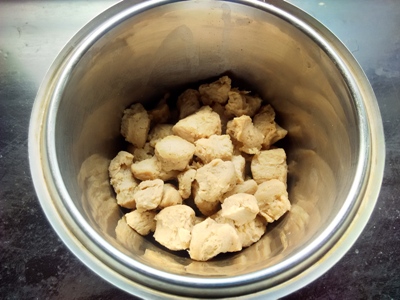 Remove the coarsely grinded soya bean chunks in a plate.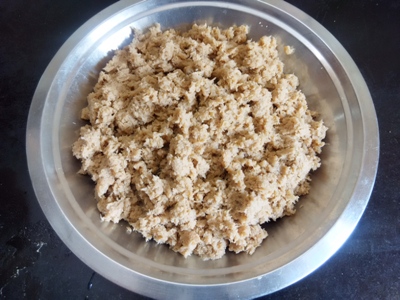 Add red chili powder, turmeric powder, garlic-green chilli paste, Besan/Bengal gram flour, a hand full of chopped coriander leaves and salt.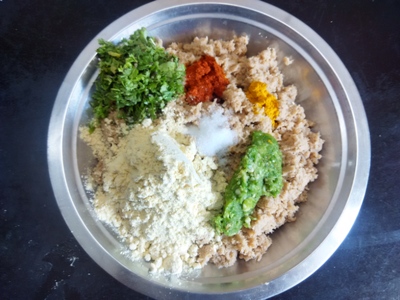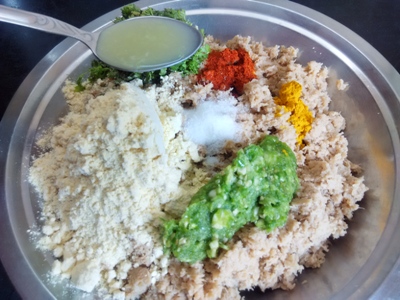 Mix all the ingredients with your hand. Allow the mixture to rest for half an hour.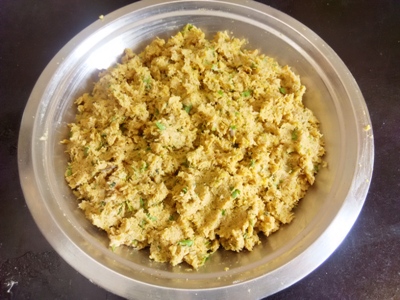 Now again mix the mixture with your hand and make round tikkis or round kebabs of the mixture. You can make any shape of your choice. Heat oil in a skillet. Place the soya bean kebabs into the hot oil and deep fry it on medium flame.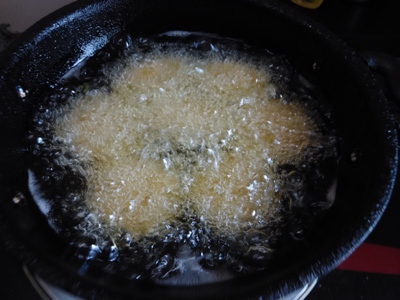 Now flip the kebabs and deep fry it on another side. Deep fry the kebabs equally on both the sides.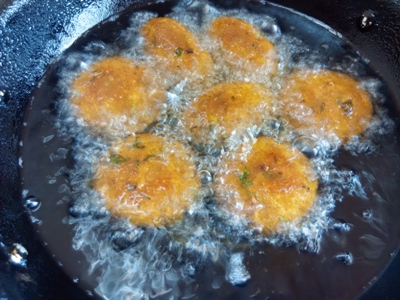 When the soya bean kebab gets good golden brown colour. Remove the soya bean kebabs on the kitchen towel to drain off the excess oil.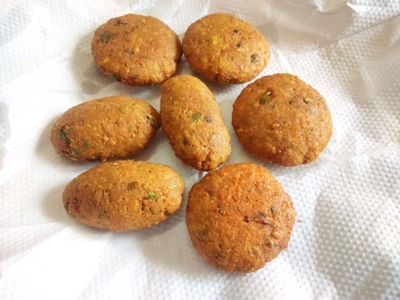 Scrumptious soya bean Kebabs are ready to serve. Serve hot with green chutney. Enjoy!