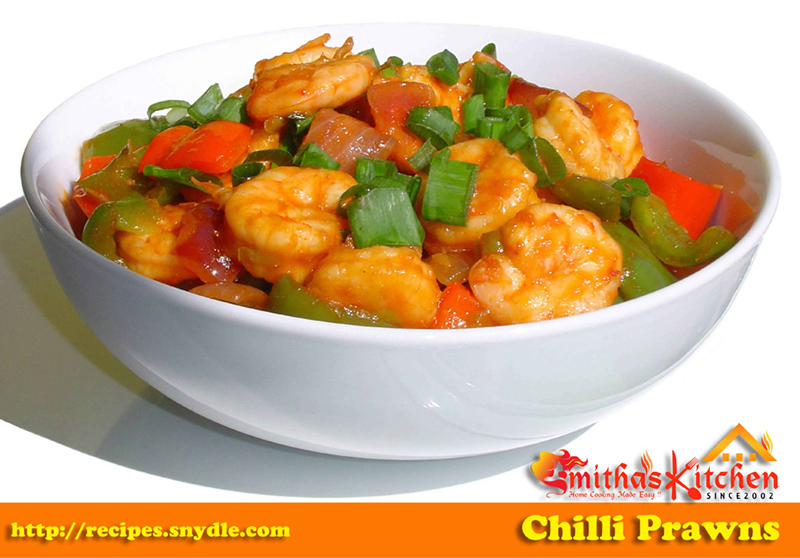 A dry dish using fresh Prawns tossed in hot chilli sauce and mildly spiced with black pepper, bell pepper and green chillies. It's a simple recipe without deep frying or shallow frying the Prawns. So, the oil consumption is very minimum !!
INGREDIENTS :
Fresh Prawns – 500 gm
Ginger Garlic Paste – 2 tsp
Green Chilli – 3 nos, slit
Celery, finely chopped – 1 tbsp
Spring Onion, finely chopped – 1 handful
Red Chilli Power – 1 tsp
Pepper Powder – 1/2 tsp
Corn flour – 1 tbsp
Lemon Juice – 1 tbsp
Red and Green Bell pepper, cubed – 1 cup
Onion – 2 nos, cubed
Chilli Sauce – 1 tbsp or to taste
Soya Sauce – 1 tbsp or to taste
Tomato Sauce – 1 tbsp or to taste
Fish Sauce – 1 tbsp
Sugar – 1/4 tsp
Oil – 1 tbsp
Salt – to taste
METHOD OF COOKING :
Clean and devein the Prawns.
Heat oil in a wok, add ginger-garlic paste, green chilli and sauté well.
Add sliced Onion, Celery and continue sautéing until the onion gets half cook.
Add cleaned Prawns, Red Chilli Powder, Salt and mix well.
Increase the flame to high and add Soya Sauce, Tomato Sauce, Fish Sauce, Chilli Sauce and sauté well for 3 to 4 minutes until the Prawns get cook.
Add Lemon Jiuce, Sugar, sliced Bell Pepper, Pepper Powder and toss well for few seconds. Make sure the Bell Pepper should not over cook.
Mix the Corn Flour in 50 ml water, add to the Prawns and mix well for few seconds
Switch off the flame and spread the chopped Spring Onion on top.
Yummy spicy Chilli Prawns is ready.
Serve it hot with any kind of Roti, Pulao or Fried Rice.
NOTE :
Do not overcook the Prawns, it will become rubbery.
Do not overcook the Bell Peppers, it will loose its color and taste
Add very less salt or even do not add salt, as all the sauces are already salty.
Recipe No. 417