How to make Amla / Indian Gooseberry Candy with step by step pictures.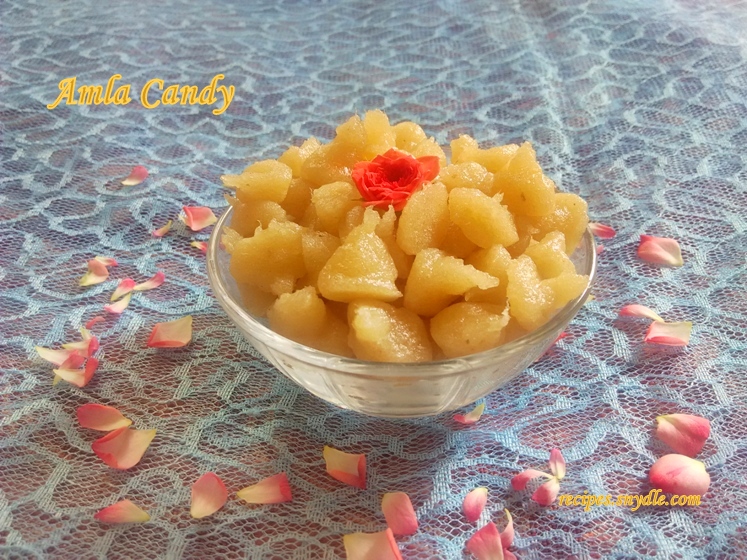 Hi! Foodies today I am sharing healthy amla candy recipe with you. Amla contains healthy properties and help to cure many diseases. Our ayurveda is greatly depended on the plants for making medicines. Amla is only available in winters and be stored in the form of murabba, pickles, candy and so on for few more months.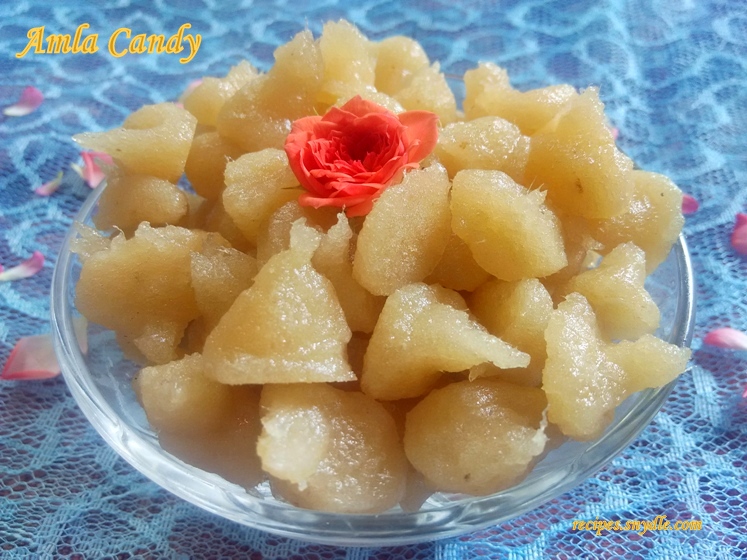 Amla has sour taste. So we do avoid having amla but it contains many medicinal properties which reenergizes our body. Everyday consuming amla will surely keep the doctor away. Amla helps to cure several diseases. My grand mom makes several different dishes of amla like murabbas, pickles, amla candy and many more.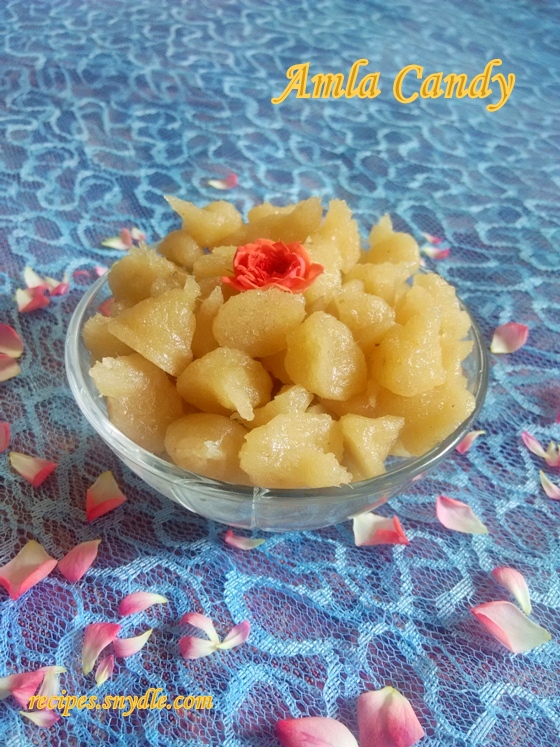 Kids enjoy candies a lot so; here I am sharing my grand mom's recipe of amla candy with you. Though it takes a lot of time and patience to prepare amla candy but at the end it results delicious.
Amla brings remedies to many deseases like sore throat, cold and cough, helps for wait loose, good supply of vitamin C,iron and zinc. Amla also improve eyesight, cure sleeping disorder, cures arthritis, controls acid levels in stomach, recovers metabolism, eliminate toxins from the body, build up respiratory and nervous system, increase immunity, maintains cholesterol levels, controls diabetes and its complications, slowdowns your age, protects from cancer, treats viral infections, keeps body system healthy, strengthens nails and teeth and protects from UV rays.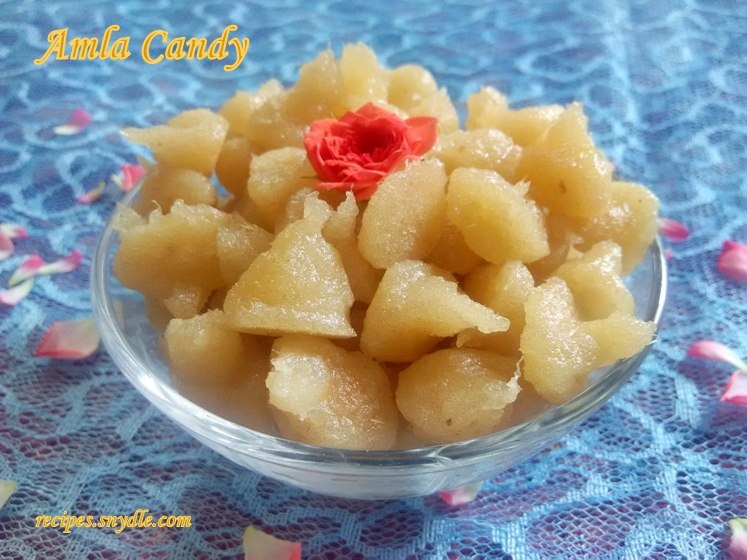 Amla is excellent to improve your sex life, provides aid to menstrual pain and improves sperm count. It also contains the ellagic acid, gallic acid, kaempferol, flavonoids and Polyphenols. Protects from hair damage, premature hair graying and removes dandruff. Amla is also good for skin. Amla gives natural glow to skin, make the skin youthful, reduces dead cells, wrinkles and spots from the skin.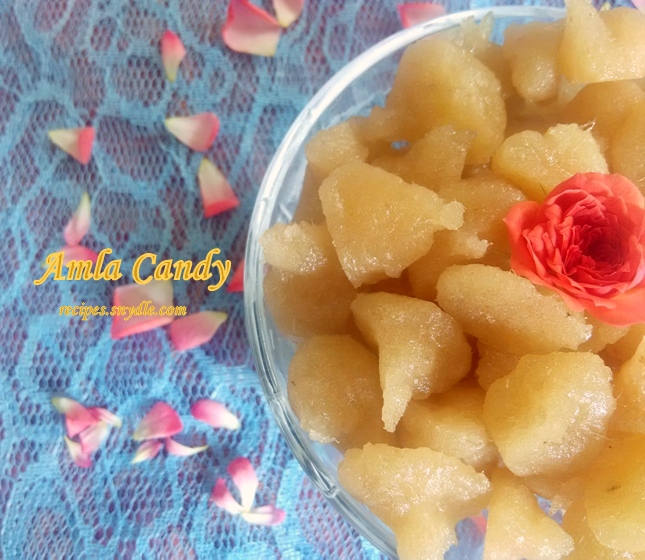 Amla candy is made of only 2 ingredients amla and sugar. The perfect amla candy requires good sunlight. As after making the smooth paste it is kept under direct sunlight for 3 – 4 hours every day for 2 – 3 days. When the paste becomes thicker make candies of the paste with the help of your hand or you can use cake nozzles to make candies it will help you to make candies in the small shape and size. Again keep these candies under the sunlight for 2-3 days. Luscious amla candies are ready to eat and can be stored for few weeks in an air tught container or it can be refrigerated.
Ingredients
Amla/Indian gooseberry – 250 grams
Sugar – 250 grams
Salt – A pinch
How to make Amla/Indian gooseberry Candy.
Wash and drain the amlas.
Boil water in a Cooking vessel. Place amlas into the boiling water. Cover it with the lid and reduce the flame for 10 minutes. Drain the water from the amla.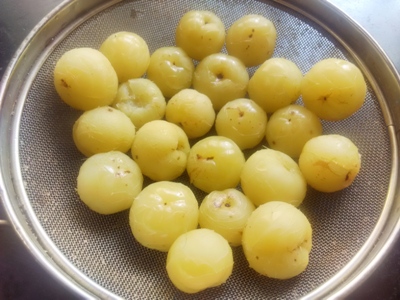 You will notice that amlas have started opening their mouth. With the help of your hand open the mouth of the amla. Just with the gentle press on the top it will separate into slices and seed can be easily removed from the middle. Perform this procedure when the amla is hot or luke warm. Do not perform this procedure when the amla get into room temperature.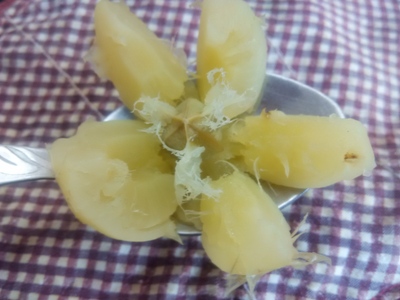 After removing all the seeds from the amla. Place the amla into the grinder add sugar and make a smooth paste. Be sure that there are no small pieces of amla left into the paste. Remove the paste into a plate. Add a pinch of salt and mix it well.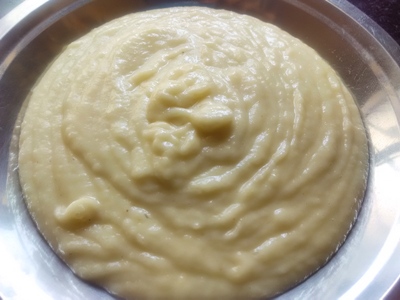 Keep the plate under the direct sunlight for 3 – 4 days and stir it after every 1 hour. When the amla paste becomes slight thicker after 3 – 4 days. With the help of your hand make small vadis or candies of the paste. You can also use cake nozzles to make candies. In fact cake nozzles will help to make the candies in similar sizes and shape. Keep these candies under the sun for 2 – 3 days.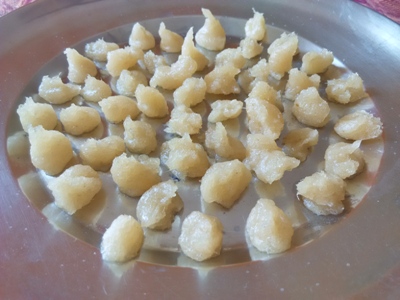 The amla candies are ready to eat and can be stored in the air tight container and also be refrigerated. Enjoy!