Hello Friends,
I  am  Rahana Rani   To  day  I am  Sharing  North Indian  Style Aloo(Potato)  Chicken  Curry  recipe.It's  very  tasty healthy and  easy.  So  please  try  it very  easy  Pressur cooker recipe.
Aloo  Chicken Spicy Curry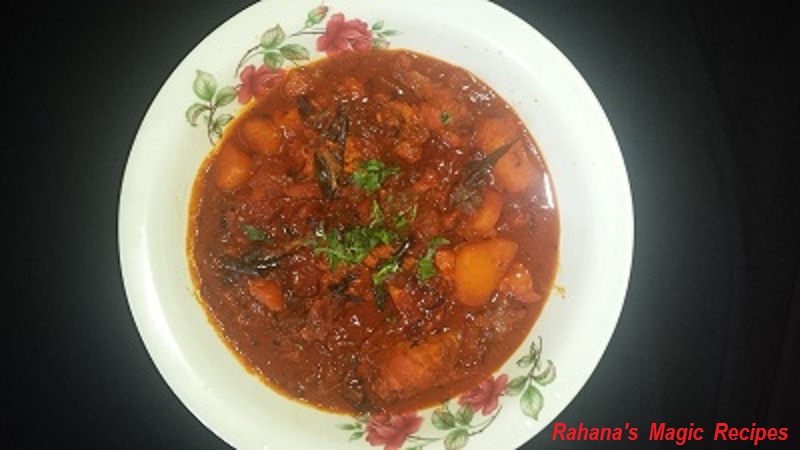 This curry works best with plain steamed rice or ghee rice and we don't need anything else to cook that makes the work more easy.  This Chicken and aloo it made in amazing little over 30 minutes from start to end in pressure cooker, can it get better than this?
You can see the oil floating on top but actually I added less oil but the pressure cooker does the magic and the oil floats on top.  Also I used mustard oil in marination if you don't have that then use your regular oil it works too.  The curry is made with minimal and basic ingredients which we can always find in pantry so if you are in hurry then this curry suits best for you.
Gravy/curry is normally thin in this recipe but if you want to have thick gravy chopped onion.  You can also try this recipe  as it's quick and easy or if you eat chicken curry . then it's best option too to make this in 30 minutes, you can eat this with Rotti, Chappathi.Let's   make  step by  step
How To Make North Indian Style Spicy  Aloo  Chicken
Cuisine: North Indian
Prep Time: 15 Mins | Cook Time: 20 Mins | Total Time: 35 Minus
Serves: 4
Ingredients:
Cleaned Boneless Chicken – 500 gms
Red Chili Powder – 1 tsp
Coriander Seeds Powder – 3 tsp
Turmeric Powder – 1 tsp
Garam  Masala Powder – 1 tsp
Ginger ,Garlic  Paste – 3 tbsp
Afia Oil – 3 tbsp [You can use any other cooking oil too]
Lemon Juice – 1 tbsp
Onion – 1 Large
Aloo (Potato) – 1 Large
Tomato – 1 Large
Oil – 1 tbsp
Cumin Seeds – 1/2 tsp
Chopped  Capsicum –  1/2
Chopped  Green chili- 2
Pepper Powder- 1/2 tsp
Salt – To Taste
curry  leaves
Water – 2 Cups
Method:
Cut  the  chicken  pieces  and  wash
Peel and chop aloo ( potato) in bite size pieces, slice onion and chop tomato.chop capsicum,chop green chili, chop coriander leaves, curry leaves  keep in  side
In a pressure cooker heat oil add cumin seeds and allow to splutter. 
Add onion,green chili, capsicum and saute until soft, Add curry leaves and saute for a minute.
Add red chili,pepper powder and mix well. Now add tomato, stir and cook for a minute.
Add aloo, chicken, salt  mix well and saute for 2 minutes.
Add water now mix (adjust salt if required) close cooker and cook for 2 whistles, after that keep flame to slow and simmer for 5-8 minutes.
If using  cooker once steam start coming lower flame and let it steam for 5 minute.
Allow pressure to release, open cooker and mix curry.
Transfer  in to  a  serving  bowl  and  serve  imediatly.
Serve with steamed rice, ghee rice,rotti and  chappathi
Enjoy  Happy  cooking  and  stay  Healthy.